Keep your septic system functioning efficiently & effectively with regular septic pumping. Contact us today!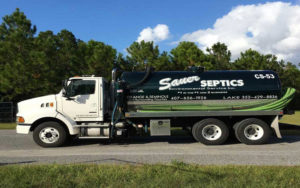 Are your drains slow or backing up?
Have you noticed strange odors, or pooling water around your septic tank and/or drain field?
Has it been more than 2 years since you had your last septic pump?
Call Sauer Septic for your septic pumping needs.
Our septic tank pumping services include:
✔  Complete system inspection & troubleshooting
✔  Thorough septic tank pumping & cleaning
✔   Preventative maintenance to protect your environment from costly contamination & clean-up
✔   Environmentally conscious, licensed & insured transportation of liquid waste only to approved receiving facilities
Take advantage of our offer today: Free Estimate on Septic Pumping
If you choose to hire us, we'll come & look after your septic tank pump out as soon as possible.
Sauer Septic has been in business for over 30 years and can help diagnose all kinds of septic tank problems.
Our service area includes: Windermere, Winter Garden, Apoka, Winter Garden, Clermont, Orlando, Casselberry, Altamonte Springs, Leesburg, Eustis, Groveland, Ocoee, Minneola, Mount Dora and Clermont
Call (407) 656-1926 or (352) 429-8836, or fill out our form for a free estimate on septic pumping.
Management reserves the right to discontinue this offer or limit quantities at any time.