Having a routine commercial septic inspection in Windermere is very important to the proper function of your septic system.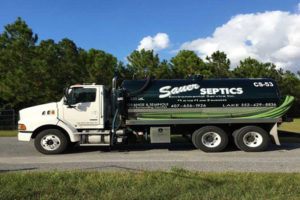 Commercial Septic Inspection in Windermere – If you own and operate a commercial septic system, you know it is different from the septic systems in residential areas. While commercial septic systems basically function the same way, the amount of water and waste at a commercial location is much different. Due to the higher volumes of waste being processed through a commercial building, having a routine commercial septic inspection is very important to the proper function of your septic system. At Sauer Septic, we can provide your routine commercial septic inspection so your system continues to work properly over time.
Regular maintenance and scheduling of a routine commercial septic inspections helps to prevent environmental damage and potential backups that could cause costly repairs. Finding the right company that is knowledgeable about commercial septic systems will keep your system working its best for many years without issue. Additionally, any problems that arise can be addressed quickly as long as you maintain a commercial septic inspection schedule.
At Sauer Septic, we have more than 30 years of experience providing commercial septic system services to our customers in Windermere, Florida. When you call us for a commercial septic inspection and other commercial septic services, you will know you have come to the right place for routine repairs, maintenance tasks, and keeping your commercial septic system in its best condition. This way, you can focus on your business instead of on your septic system! Call us today to learn more or to schedule your commercial septic inspection.
---
At Sauer Septic, we provide high-quality commercial septic inspection services in Orlando, Windermere, Winter Garden, Apopka, Clermont, Casselberry, Altamonte Springs, Eustis, Ocoee, Minneola, Mount Dora, Mascotte, Leesburg, Groveland, Gotha, and Tavares, Florida.