Nobody understands septic tanks better than we do!
When it comes to septic tanks, there are three things you need to know if you want a long life from the one that will be installed at your new Tavares, Florida home or business: quality of the tank, proper installation, and attention to maintenance. You can count on us at Sauer Septic for all three of these, so you can enjoy your new septic system for many years to come.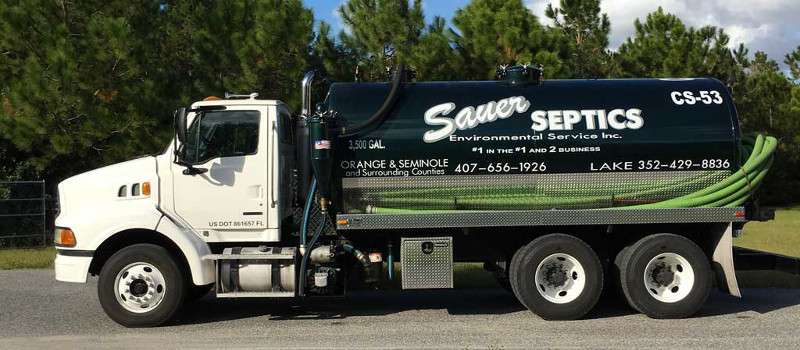 Quality of the tank. We could get our septic tanks from third-party manufacturers, but we choose to manufacture our own instead. It is our reputation on the line when we install septic tanks, so by making them ourselves, we have total control over the quality and construction. This also helps us keep our rates fair and competitive.
Proper installation. There is more to installing septic tanks than digging a hole and dropping the tank into place. Septic tanks can only last if they have a proper foundation that keeps them from shifting, which causes cracks and damage. Proper drainage, soil testing, and a host of other considerations go into a successful installation. Our 35+ years of experience go into every installation, so you can enjoy a trouble-free septic tank.
Maintenance. We design the septic tank for you that accounts for your household size and lifestyle. We then go over the maintenance schedule that will best serve your situation. We'll go over how often the tank and drain field should be inspected, as well as how often the tank should be pumped out and cleaned. If this is your first experience with a septic system or you aren't sure how to best protect a septic system, we'll be happy to go over the best practices for septic system health.
If you have any questions about septic tanks, don't hesitate to contact us. We are eager to earn your business and help you have a long and trouble-free experience with your septic system.
---
At Sauer Septic, we provide high-quality services for septic tanks in Orlando, Windermere, Winter Garden, Apopka, Clermont, Casselberry, Altamonte Springs, Eustis, Ocoee, Minneola, Mount Dora, Mascotte, Leesburg, Groveland, Gotha, Isleworth, Heatherbrooke, Sky Lake, and Tavares, Florida.
Similar Services We Offer: