Rely on us for your commercial septic pumping tasks.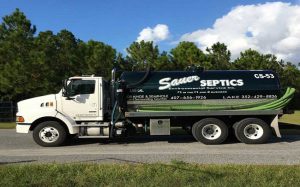 Depending on the size and type of your business, it's recommended to schedule commercial septic pumping services every one to three years. Failure to regularly pump your septic tank can result in a long list of nasty side effects, ranging from clogged drains to noisy pipes to foul odors spreading throughout your business. If you want to avoid these kinds of issues and keep your system in great condition, you should schedule regular commercial septic pumping services.
Here at Sauer Septic, our team of experienced professionals has been providing essential septic services throughout the Tavares, Florida area for over 40 years. With our long history of reliable, prompt, and honest work, you can rely on us for your commercial septic pumping needs.
If you choose to contact us for your commercial septic pumping job, we'll work efficiently to take care of your septic tank without disrupting your typical day-to-day tasks. When we arrive onsite, our technicians will remove the lid to your septic tank and attach a hose to vacuum out all of the contents. Once all the sludge has been sucked out of the tank, we'll wash out the inside of your tank to ensure that it's completely clear and inspect the tank for any signs of damage or corrosion. If all looks well, the lid will be replaced, and we'll be on our way.
An entire commercial septic pumping job shouldn't take more than an hour to complete, so there's no reason to put off this important service. To schedule an appointment or speak with one of our experts, simply give us a call today!
---
At Sauer Septic, we provide high-quality commercial septic pumping services in Orlando, Windermere, Winter Garden, Apopka, Clermont, Casselberry, Altamonte Springs, Eustis, Ocoee, Minneola, Mount Dora, Mascotte, Leesburg, Groveland, Gotha, Isleworth, Heatherbrooke, Sky Lake, and Tavares, Florida.