At Sauer Septic we offer reliable and affordable Septic Tank Installation & Service in and around Orlando, Florida!
Septic Tanks in Orlando – For over 28 years, Sauer Septic Systems has worked with Home Builders, Homeowners, and Contractors all over the Greater Orlando and Kissimmee areas. We provide septic tank design, installation of septic tanks and drain fields, and the regular septic tank servicing that keeps on-site sewage facilities running. We cover all of Greater Orlando including: Seminole, Lake, Orange, Osceola, Volusia and Polk Counties. Our reputation for quality, reliability and integrity in the wastewater management industry is unmatched. Sauer Septic Systems provide initial soil analysis, septic permits, septic tank design complete installations. Onsite wastewater disposal systems are a vital part of any home or business but keeping them working properly and efficiently requires regular maintenance and service.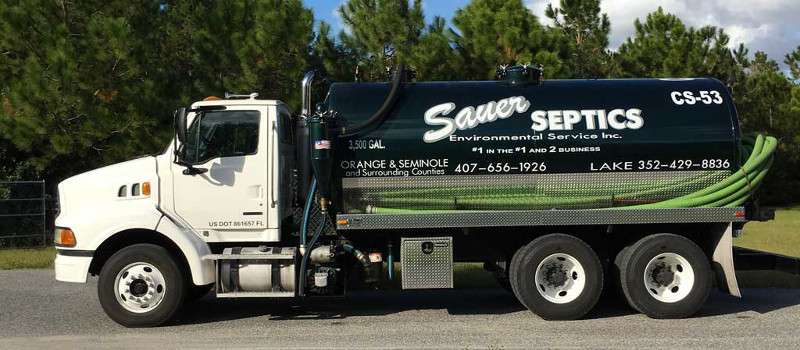 OUR SEPTIC TANK INSTALLATION SERVICES IN ORLANDO INCLUDE:
Septic tanks designed, installed, inspected and cleaned
Leach field installation service and maintenance
Sewer line, lateral & pump installation and maintenance
Water lines installation
Onsite waste water treatment plants installed, inspected & serviced
Hydro flushing for commercial sewer lines
We offer Residential & Commercial Septic Tank Service Just When You Need Us!
A professional staff of plumbing and sewage professionals will be happy to address problems or concerns with your septic system, no matter how small.
FAQs About Septic Tanks
As our name suggests, our team at Sauer Septic has extensive experience in working on septic tanks, and we want to help you keep yours in good working order. If you have questions about your tank and how to keep it in great shape, we encourage you to read through the answers to some of our frequently asked questions below.
How do septic tanks work?
In a private septic system, all wastewater flows down your drains and into the septic tank. Inside the tank, solid waste sinks to the bottom, where good bacteria will break it down into sludge, which will then remain inside the tank until it is removed. Liquid waste, on the other hand, flows out of the tank and into the drain field, a network of pipes and filters that treats the water and makes it safe to return to the local water table.
How do I maintain my septic tank?
The main thing you'll need to do to maintain your septic tank is have it pumped regularly.
Septic pumping
is the process of removing the sludge at the bottom of your tank to make room for new waste to enter, and most experts recommend having it done once every three to five years. You won't have to do this task yourself, but can instead turn to septic companies like ours to have their experts do it for you. You should also have your tank inspected regularly and take care of any problems as soon as possible.
Anything else I should know?
One key thing we want you to know about septic tanks and how to keep them in good working order is that you should be careful about what you flush down your toilets or pour down your drains. Never flush anything but waste and toilet paper, and make sure not to pour cooking oil, grease, or household chemicals down the drain.
Keep your septic system in good shape by following these safety tips.
Very professional.
Testimonial
"Very professional, friendly, fast and service at a great price."
★★★★★
Andres Goez
Similar Services We Offer: