You can trust that our septic tank manufacturing services in Orlando, FL are of the highest quality.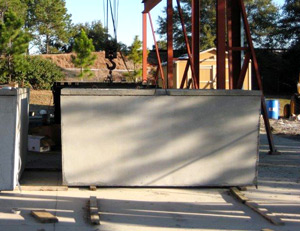 Septic Tank Manufacturing in Orlando – A key component of your septic system is the septic tank. The septic tank is responsible for filtering sewage water before it is released into the drain field. When sewage water enters the tank, the heavier components sink to the bottom, and fats, grease and oils float to the top. The water in between is relatively clean before it is pushed out of the tank and into the drain field.
Having a properly constructed septic tank is key to your septic system functioning properly. If a tank has cracks or leaks, sewage water will escape the tank before it has been properly filtered and will contaminate the area. Sewage is highly unsanitary, and a leaking septic system is an emergency that needs to be dealt with immediately. Leaked sewage can get into nearby lakes and streams and contaminate the groundwater, causing an environmental hazard. This is why we do our own septic tank manufacturing here at Sauer Septic, so we can attend to every detail and ensure that each tank meets our quality standards.
You can trust that our septic tank manufacturing services are of the highest quality. Sauer Septic is a highly reputable company in the field of septic systems. We have been serving the Orlando, Florida area for over 30 years and have an outstanding rating with the Better Business Bureau. We are known for our excellent customer satisfaction with all septic-related jobs. We believe our septic tank manufacturing services are part of what makes our customer experience so satisfactory. If you have better equipment for your system, you will have fewer issues and repairs needed down the line. We know you will be more than satisfied when you work with our team at Sauer Septic, and we look forward to your business.
---