We have been performing septic tank inspections since we got our start back in 1980 and are known for the quality of our service and workmanship in Orlando, FL.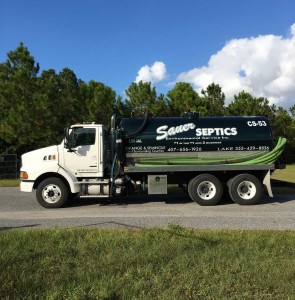 Septic Tank Inspections in Orlando – Even if you don't think you have a cavity, you still go to the dentist every six months to make sure. This same principle should hold true for the septic system on your property. Routine inspections can help you avoid costly and extensive repairs, especially when it comes to your septic tank. If you're looking for a septic professional in the Orlando, Florida area who can give you reliable recommendations for your septic tank, turn to us at Sauer Septic.
We have been performing septic tank inspections since we got started back in 1980 and are known for the quality of our service and workmanship.
When we come and inspect your septic tank, we will:
Check for abnormalities that could be compromising its functionality or efficiency
Determine if there are any problems that need to be fixed now or later on
Recommend a schedule for pumping, as well as for any repairs that need to be done
When it comes to septic tank inspections, there's no set rule for how often you should have your tank inspected. However, we recommend letting us come and inspect your tank at least once a year, or sooner if you suspect that something's gone wrong with your system.
Additional Reasons for Septic Tank Inspections
While we have already gone over the purposes for septic tank inspections and the key reasons why they are important, there are some additional reasons and situations to consider. If any of these pertain to your situation, we highly recommend calling us at Sauer Septic to schedule an inspection of the septic tank at your Orlando, Florida home or business.
Upcoming Guests- If there is one thing that you can count on as a Florida resident, it is that your home will become the vacation spot for any family or friends who live up north. Imagine how you would feel if their vacation was ruined because your septic system failed! Have it inspected before they arrive so you can have peace of mind you won't be embarrassed by a waste backup.
Important Gathering- Planning a special gathering at your home means making plenty of plans. Don't forget to be sure your septic system is up for the added demand during a large gathering so your party doesn't become memorable for all the wrong reasons.
Before Rainy Season- The torrential rains we sometimes get in this area put added stress on septic systems that can struggle to keep up. Be sure your septic tank won't crack under the pressure, so to speak, by having it inspected prior to hurricane season.
After an "Oops!"- Realizing you did something wrong that could have damaged your septic tank, like driving over it with your truck, can leave you fearful. It is better to find out with an inspection than just hope it wasn't damaged.
As a locally owned and operated company, we're confident that you'll be more than happy turning to us for all of your septic needs, septic tank inspections included. To schedule your next inspection or to find out what sets our services apart, get in touch with us at Sauer Septic today.
---
At Sauer Septic, we provide high-quality septic tank inspections in Orlando, Windermere, Winter Garden, Apopka, Clermont, Casselberry, Altamonte Springs, Eustis, Ocoee, Minneola, Mount Dora, Mascotte, Leesburg, Groveland, Gotha, and Tavares, Florida.
Similar Services We Offer: