Commercial septic pumping is a part of regular septic maintenance in Orlando, FL.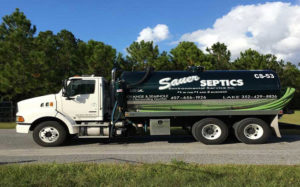 Commercial Septic Pumping in Orlando – If your company uses a septic tank for sewage disposal, proper maintenance is crucial to its operation. Septic systems filter out contaminants and wastewater before they reach the groundwater we use for drinking and bathing and the local lakes and streams. If septic systems are not maintained well, they are not as effective at filtering, and the contaminants from the sewage can get into these important water sources.
Commercial septic pumping is a part of regular septic maintenance. Typically, septic pumping needs to be done every 3 to 5 years, but the exact timing for your company may be more or less, depending on your usage and needs. Our team at Sauer Septic is available for commercial septic pumping, and we can inspect your tank and recommend how often it needs to be pumped. You can reduce the frequency of pumping by making an effort to not use water unnecessarily. The more water you conserve means less water going through the septic system. Also, it is important that only human waste, toilet paper, and water go down the pipes. Coffee grounds, paper towels, cigarette butts, cotton swabs, etc. all lead to clogs and make the system less effective and ultimately lead to more frequent septic pumping and repairs.
Sauer Septic is a reputable company with an outstanding rating at the Better Business Bureau. We are available for all septic issues, big or small. We are happy to handle your commercial septic pumping job or consult to see when you should have one scheduled. We are available in Orlando, Florida and surrounding areas. We look forward to servicing your septic system.
---
At Sauer Septic, we provide high-quality commercial septic pumping services in Orlando, Windermere, Winter Garden, Apopka, Clermont, Casselberry, Altamonte Springs, Eustis, Ocoee, Minneola, Mount Dora, Mascotte, Leesburg, Groveland, Gotha, Sky Lake, and Tavares, Florida.