Performing commercial septic inspections in Orlando, FL is an important and hazardous job that requires special training.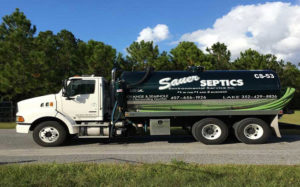 Commercial Septic Inspection in Orlando – Regular inspections to your commercial septic system are crucial to the safety and functionality of your system. A septic system treats wastewater that is highly unsanitary, and if the system is malfunctioning in any way, it can lead to hazardous conditions to your facility and surrounding areas. Because of the way a septic system is designed, it requires that the wastewater be filtered in a specific way. Any disruptions to this filtration will mean that toxic wastewater is escaping the system.
During a commercial septic inspection, the inspector will check to see that the various parts of the septic system are working. Some of the things an inspector will look for are any signs of cracks or damage to the system and signs of leakage. They will check to see that it is watertight, so wastewater cannot leak into the surrounding area and groundwater can't leak into the tank, causing it to become overloaded. They will check the location of the septic tank and the drain field to see that they are far enough away from nearby wells and streams. They will check the sludge levels of the tank, which must be less than a third of the volume of the tank.
Performing commercial septic inspections is an important and hazardous job that requires special training. Our team at Sauer Septic is available to do this vitally important job for companies in Orlando, Florida and surrounding areas. We have been in business for several decades and have the experience and expertise necessary to ensure that your septic system is operating ideally. We look forward to working with you to conduct your commercial septic inspection.
---
At Sauer Septic, we provide high-quality commercial septic inspection services in Orlando, Windermere, Winter Garden, Apopka, Clermont, Casselberry, Altamonte Springs, Eustis, Ocoee, Minneola, Mount Dora, Mascotte, Leesburg, Groveland, Gotha, Isleworth, Heatherbrooke, Sky Lake, and Tavares, Florida.