Buying a home with a septic system should always include a full septic inspection.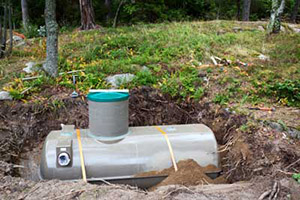 Buying a home is an exciting process, whether you're getting into your first home or purchasing an upgraded living space for an expanding family. When you go through the buying process, you'll look at various aspects of the home you're considering to make sure it is in good condition and ready for you to move in. A common step in the due diligence process is having an inspection performed to determine the condition of the various systems and components of the home. However, one system that often gets overlooked in the inspection is the septic system. This is also a system that takes a lot of abuse and can create a number of issues if it's not properly maintained.
If you've never lived in a home that relies on a septic system, it's important to understand some of the differences. A septic system processes and stores the waste that comes through the drains, rather than sending it through a sewer main to a city-operated septic plant. As the property owner, you're responsible for maintaining and caring for your septic system. You will need to make sure that only approved items get flushed down the drains and keep up with regular pumping, cleaning, and other maintenance tasks.
Buying a home with a septic system should always include a full septic inspection. By having this done as part of the process of buying a home with a septic system, you can determine whether the system has been maintained and get a sense of what you're getting into by investing in this property. At Sauer Septic, we offer real estate septic inspections in and near Minneola, Florida and can provide you with a full report on the system at the home you plan to purchase.
---
At Sauer Septic, we can help if you are buying a home with a septic system in Orlando, Windermere, Winter Garden, Apopka, Clermont, Casselberry, Altamonte Springs, Eustis, Ocoee, Minneola, Mount Dora, Mascotte, Leesburg, Groveland, Gotha, Sky Lake, and Tavares, Florida.