Buying a home with a septic system is best done by taking advantage of our inspection service and getting all the information you need.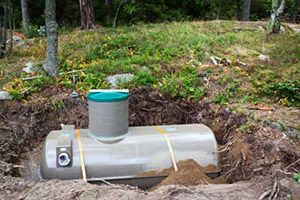 Buying a home with a septic system can make you feel apprehensive if this is your first exposure to this type of wastewater system. Given the cost involved with dealing with a problematic system, you are wise to be cautious. However, when you consider not having a monthly bill to the municipality for sewer line connection and usage, many favor having a septic system. Here at Sauer Septic, we want to help you feel more at ease with buying a home with a septic system by offering you the benefit of our nearly 40 years of experience serving the Mascotte, Florida area.
First of all, we recommend having us inspect the system while you are in the inspection period your purchase contract provides. If a problem is found, you have the opportunity to move on to another property, get the sellers to fix the problem, or renegotiate the selling price accordingly. You have the right to have any number of inspections done on the home, so do not feel like you are limited only to one general inspection done by a home inspector. Savvy buyers know that having each system checked by someone experienced with it provides you with a more thorough report, as well as advice about resolving any problems.
Going beyond the inspection, it is also helpful to have a clear understanding of what is involved with maintaining a septic system so you can be sure it is something you feel comfortable with. Many of the recommendations about the care of a septic system aren't much different than a sewer system, such as what you shouldn't put down the drains or flush. However, you should know how often to have it serviced and how to protect the tank and drain field from damage. We will be glad to go over all that as it pertains to the property's system. Contact us today to learn more about how buying a home with a septic system isn't as problematic as you might have thought.
---
At Sauer Septic, we can help if you are buying a home with a septic system in Orlando, Windermere, Winter Garden, Apopka, Clermont, Casselberry, Altamonte Springs, Eustis, Ocoee, Minneola, Mount Dora, Mascotte, Leesburg, Groveland, Gotha, Sky Lake, and Tavares, Florida.