We are the preferred contractor in the area for septic tanks and so much more.
When you consider how important the septic system at your Mascotte, Florida home or business is, it makes sense to turn to an experienced company when you need service. Here at Sauer Septic, we have experience with septic tanks and the other components of residential and commercial systems dating back to 1980. While a company that has been in business a short time might boast a good rating with the Better Business Bureau (BBB), few that have been around for nearly 40 years can continue to have an outstanding rating like we do. It takes a conscious effort to do right by your customers on a consistent basis to do that, and we are proud to say that's how we operate as the preferred locally owned and operated septic services provider.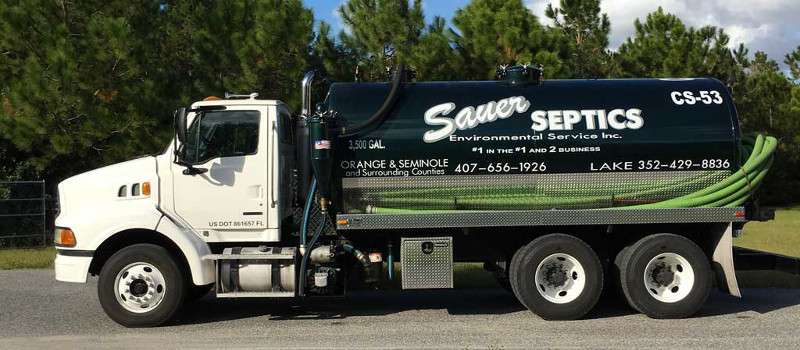 One of the ways in which we have become a trusted expert in septic tanks is by offering all the septic services you could need at your home or business. Not everyone can say that they design, install, inspect, and clean septic tanks, as well as tackle the rest of the components, including the sewer and water lines. We even handle complex commercial and municipal applications, such as onsite wastewater treatment plant installation, inspections, and service.
While there are many companies in the area that handle pumping septic tanks, that is just one part of what we do. We handle what they are not equipped to do, including all that goes into the successful installation of septic tanks. This is a complex undertaking that involves an initial soil analysis, applying for and obtaining septic permits and following through to the final inspection, designing septic tanks for even unique situations, and installing them properly so they provide reliable and long-lasting service for your home or business. A common reason for premature failure of septic tanks is incorrect installation, so don't run that risk by calling anyone else who doesn't have the experience and history of quality that our team of professionals provides.
We genuinely value you as a customer and will make sure you do not doubt it for a moment. From your first call through the completion of your project or service, you and your property will be treated with the utmost respect. We will address any questions or concerns you have in a timely manner so you are at ease throughout the duration of your septic system service.
In addition to being the best choice for septic tanks, you can also call us regarding drain field services and rely on the same punctual and reliable service. In fact, we offer emergency septic services for those situations that are dire and cannot wait. Rest assured that our fully licensed and insured septic company will always put your best interests first and take the time to fully explain what is going on with your septic system and why we have made the recommendation we felt was the best course of action.
If you have any questions about septic tanks, drain fields, or any of our services that include designing, installing, repairing, maintaining, or replacing septic system components for residential and commercial properties in Mascotte, don't hesitate to contact us.
---
At Sauer Septic, we provide high-quality services for septic tanks in Orlando, Windermere, Winter Garden, Apopka, Clermont, Casselberry, Altamonte Springs, Eustis, Ocoee, Minneola, Mount Dora, Mascotte, Leesburg, Groveland, Gotha, Isleworth, Heatherbrooke, Sky Lake, and Tavares, Florida.
Similar Services We Offer: