Our comprehensive septic tank services are available for both residential and commercial properties.
If your Mascotte, Florida home or commercial property utilizes a septic system for wastewater management, you need a qualified company that provides all the septic tank services you need to keep it functioning effectively and efficiently. Here at Sauer Septic, we have served this community since 1980 with comprehensive septic tank services, including inspections, installation, repair, pumping, emergency services, septic tank manufacturing, and maintenance services.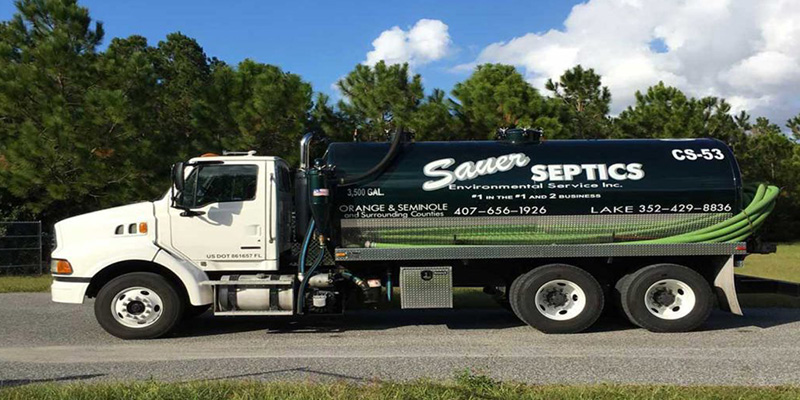 The septic tank is where waste is first deposited as it leaves your home or business. Waste undergoes a transformation here with the solids sinking to the bottom, grease and oil rising to the top, and liquid remaining in the middle where it then flows out to the drain field to be filtered before entering the ground. If this separation doesn't occur properly, waste can back up into your property and the drain field could become clogged. However, with our preventative maintenance septic tank services, there is far less chance of this scenario occurring.
We recommend you have the septic tank inspected every couple of years so that any trouble that is brewing can be resolved before it becomes a larger, costlier problem. This inspection can be done during pump-out and cleaning, but since you may not need that but every 3-5 years, scheduling an extra inspection between that service isn't a bad idea.
If you would like to know more about our septic tank services for your home or business, don't hesitate to contact us. We are dedicated to providing the best customer service and septic services in the area as the full-service company many have learned to trust and rely upon for all their septic needs.
---
At Sauer Septic, we provide high-quality septic tank services in Orlando, Windermere, Winter Garden, Apopka, Clermont, Casselberry, Altamonte Springs, Eustis, Ocoee, Minneola, Mount Dora, Mascotte, Leesburg, Groveland, Gotha, Sky Lake, and Tavares, Florida.
Similar Services We Offer: