An inspection done beforehand can help when selling a home with a septic system.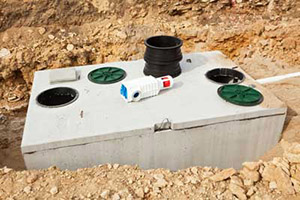 Selling your home usually means a lot of planning and preparation. Even those of us who are experienced in the buying and selling of homes can feel a bit overwhelmed at times! If you are selling a home with a septic system, not only do you need to get everything inside your home ready for the sale, but you need to get your septic system prepared as well! Selling a home with a septic system can be a great experience with our experts here at Sauer Septic, and here are a few reasons to consider calling us sooner rather than later.
Motivating to potential buyers. When buyers are looking at homes with septic systems, they are already thinking about potential future costs, and the thought of a dealing with septic system maintenance might be enough to make them discount your home entirely. Instead, offer the septic inspection to the buyers as a positive show of good faith!
Gives you a chance to fix issues. Even if there is an issue uncovered with your septic inspection, you now know what it is and have the chance to fix it. This will present your care and keeping of the home in a good light to potential buyers.
Allows you to avoid future legal disputes. Timing is everything! When someone purchases your home and something big (like a septic system) immediately fails afterward, you might be faced with a dispute from the new owner. Having a septic inspection done helps protect you in cases like these.
Here at Sauer Septic, we want to help you in any way we can when it comes to buying or selling your home with a septic system. If you would like to learn more about selling your home and getting your system ready for the sale, then please give us a call today.
---
At Sauer Septic, we can help if you are selling a home with a septic system in Orlando, Windermere, Winter Garden, Apopka, Clermont, Casselberry, Altamonte Springs, Eustis, Ocoee, Minneola, Mount Dora, Mascotte, Leesburg, Groveland, Gotha, Sky Lake, and Tavares, Florida.