We are the area's experts when it comes to septic tanks.
It is quite easy to tell when septic tanks aren't doing their job, especially if they refuse to accept any more waste from your home or business or you end up with a yard full of effluent. At Sauer Septic, we have been installing and servicing septic tanks in the Groveland, Florida area since 1980, so we have more than enough experience with what it takes to keep them trouble-free and what to do when a problem does occur.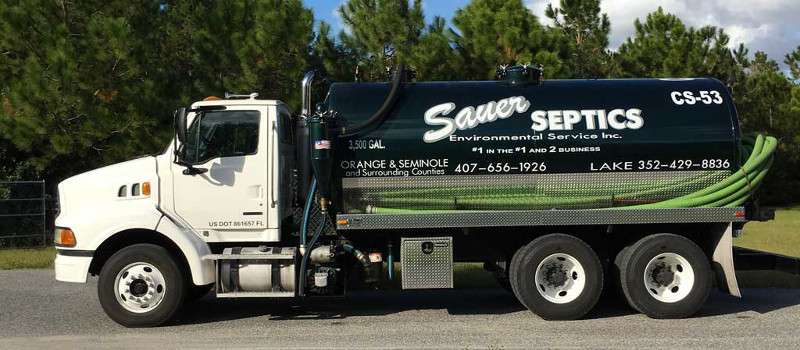 Septic tanks are used for any property that is not connected to the municipal sewer system and needs a way to treat sewage on the property instead. When a septic tank is operating as it should, the solids settle to the bottom where they break down over time, the oils rise to the top and stay there until your septic tank is pumped, and the effluent in the middle passes through to the drain field to be safely filtered before it is introduced into the soil and eventually the ground water system.
A problem arises when septic tanks get full or there is so much oil that it reaches down to the water line and ends up heading to the drain field. Another issue is if the septic tank that was installed at your home or business is not large enough. This doesn't often happen, as code regulations require an appropriate size for most situations, but it can happen in certain cases.
We are equipped to resolve a wide variety of situations with septic tanks, including resolving a problem by repairing or replacing one that isn't functioning properly. If you suspect a problem at your home or business or you need a septic tank installed for new construction, don't hesitate to reach out to us.
---
At Sauer Septic, we provide high-quality services for septic tanks in Orlando, Windermere, Winter Garden, Apopka, Clermont, Casselberry, Altamonte Springs, Eustis, Ocoee, Minneola, Mount Dora, Mascotte, Leesburg, Groveland, Gotha, and Tavares, Florida.
Similar Services We Offer: