If you are considering buying a home with a septic system, give our team a call to arrange for the comprehensive inspection you need.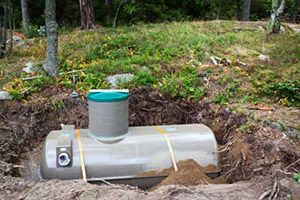 Here at Sauer Septic, we understand that buying a home is both an exciting and a challenging process, and the second part is often especially true when buying a home with a septic system. If you've never bought or even lived in a home with a septic system before, you'll need to do a little research on what steps you need to take to make sure everything is working properly before purchase, and how to keep it working properly once you've moved in. Fortunately, our team at Sauer Septic can walk you through everything you need to know about this process so that you don't end up with any nasty surprises. We have been in this business since 1980, so you can count on us to give you all the information you need.
One of the most important things to do when you're looking at buying a home with a septic system is to have that system professionally inspected—you definitely don't want to risk having to deal with a septic emergency once you move in. You'll need to speak to the seller and come up with a plan for who will perform the inspection, when it will take place, and who will be paying for it. Once you have that plan in place, you can call our team at Sauer Septic to thoroughly inspect the system in question and give you a full report. One last word of caution: even if you choose not to have a full inspection, you'll need to know exactly where the access to the tank is in order to properly maintain it.
We at Sauer Septic are proud to serve the Eustis, Florida community, and we wish you the best of luck in house-hunting. If you are in the process of buying a house with a septic system, you can give us a call to schedule a full inspection.
---
At Sauer Septic, we can help if you are buying a home with a septic system in Orlando, Windermere, Winter Garden, Apopka, Clermont, Casselberry, Altamonte Springs, Eustis, Ocoee, Minneola, Mount Dora, Mascotte, Leesburg, Groveland, Gotha, Isleworth, Heatherbrooke, Sky Lake, and Tavares, Florida.