Instill confidence with buyers by showing them you've already had the septic system inspected.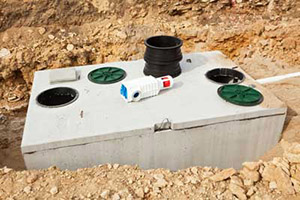 Imagine this scenario – you are coming up on closing day on your Clermont, Florida home, and suddenly the buyer presents you with either a contract cancellation notice or an addendum calling for significant repairs or replacement of the septic system before they will finalize the sale. This is a nightmare that can make selling a home with a septic system far more stressful than it needs to be. Your best bet is to call us at Sauer Septic before you list your home, so we can inspect the system. Here are the benefits of being proactive about your septic system:
Proper List Price. If you need to net a certain amount from the sale of your home, you need to know about all selling expenses early in the process, so the listing price can be set appropriately. This is not to say that you will necessarily recoup the cost for extensive repairs or replacement, but selling a home with a septic system that is in disrepair and priced wrong could put you in a difficult financial position.
Selling Point. It will put buyers at ease with the idea of buying a home with a septic system if you provide them evidence that the system has been professionally inspected and is in proper working order. They will also appreciate it if you have it serviced and pumped it out prior to closing.
No Surprises or Delays. Taking a proactive stance when selling a home with a septic system is the best defense against a delay that could be a major inconvenience, particularly if you are simultaneously purchasing a new home.
Call on us to inspect your home's septic system, so you can have peace of mind that you won't face any problems when closing on the sale of your home. While it is in the buyer's best interests to call for this inspection, if you have already done it for them, you will be showing them you care about the condition and maintenance of the home, which goes a long way to instilling confidence.
---
At Sauer Septic, we can help if you are selling a home with a septic system in Orlando, Windermere, Winter Garden, Apopka, Clermont, Casselberry, Altamonte Springs, Eustis, Ocoee, Minneola, Mount Dora, Mascotte, Leesburg, Groveland, Gotha, Sky Lake, and Tavares, Florida.