We proudly provide the Apopka area with superior septic tank services.
After leaving your home, the first place wastewater stops during the treatment process is in your septic tank. Here, the liquid is divided into an effluent layer, solid waste layer, and fats, grease, and oils layer. While the effluent eventually makes its way to the drain field, the other two layers remain in the tank until they are manually removed.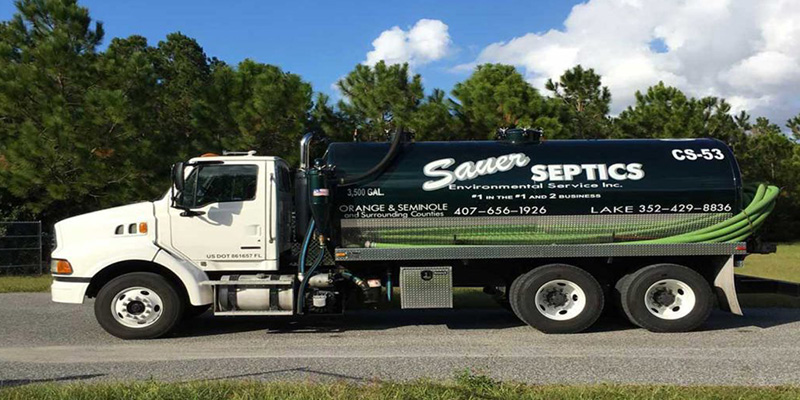 Here at Sauer Septic, we proudly provide the Apopka, Florida area with superior septic tank services. The two main septic tank services we offer include:
1.Septic tank pumping—When we pump septic tanks, we make sure we thoroughly remove all built-up waste from the tank to ensure there is plenty of room for additional wastewater. Depending on the size of your household and the size of your septic tank, we recommend septic tank pumping every three to five years.
2.Septic tank inspections—In addition to regular septic pump-outs, we also highly recommend having us come and inspect your septic tank on a consistent basis. This way, we can catch minor issues before they become major problems that disrupt the operation of your septic system.
We back our septic tank services with a commitment to you and a guarantee to do the job right the first time. Give us a call at Sauer Septic today to find out more about our septic tank services and to schedule your next appointment. We look forward to hearing from you!
Common Questions About Our Septic Services
We're one of the premier septic services providers in our area, and we're here to help you keep your septic system in good condition. We've answered some questions we receive about our septic services below, so you can make an informed choice about working with us.
What septic services do you offer?
Our core services include septic pumping and septic tank inspections. If you're worried there's something wrong with your septic system, or you believe it's time to have your tank pumped, we're the ones to call.
How long have you been in business?
Our family-owned, local business has been working on septic systems for over 30 years. During this time, we've learned exactly what our clients want from their septic company and refined our processes and services.
What sets your septic company apart?
Besides our extensive septic experience, we maintain a team of fully licensed, insured, and highly trained professionals. We also provide 24-hour service and guarantee complete customer satisfaction.
How do I maintain my septic system?
One of the best things you can do for your septic system is to make sure the tank gets pumped when it needs it. You should also space out water usage throughout the day and never flush anything but toilet paper down the toilet.
How do I make a septic services appointment?
All you need to do to make an appointment is give us a call! We're excited to show you why we're an exceptional septic services provider.