We offer professional septic pumping services to local property owners.
A septic system relies on the septic tank, which is a concrete box buried beneath the ground. All the liquid and solid waste that moves through your home's plumbing enters the tank. Liquid waste is treated and moves out of the tank, while solid waste remains behind in layers, known as sludge. In order to ensure the proper operation of the septic system, it is critical to keep up with regular maintenance. One of the most important septic maintenance tasks is regular pumping, which is the process that removes all the sludge from the tank.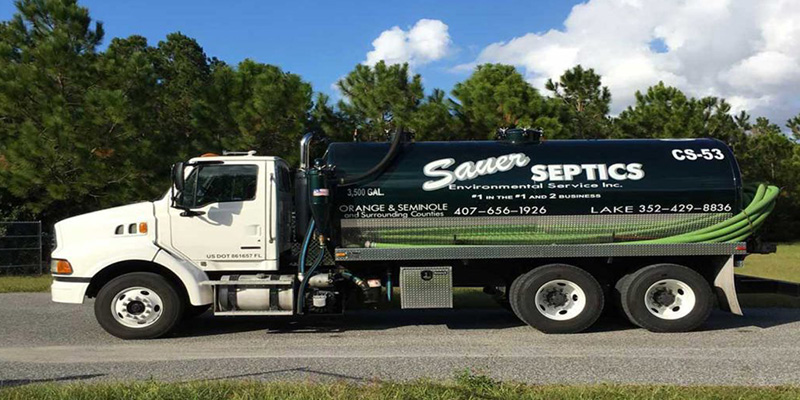 At Sauer Septic, we offer septic pumping services to those located in Winter Garden, Florida and much of the surrounding area. We recommend septic pumping every three years or so, although the exact timeline depends on the size of your tank and any manufacturer recommendations. If you aren't sure how often to schedule septic pumping, we can assess the need and get you set up on a regular maintenance schedule. We'll look at your household usage and the tank size to make a determination.
Failing to keep up with septic pumping can create a number of issues, none of which are pleasant. One of the biggest concerns associated with a lack of maintenance is overloading the system, which can result in septic backups. A backup on your property can cause damage to the landscaping, as well as spread into the home and impact your health and safety. Don't take a chance – keep up with regular septic pumping to keep things flowing properly.
---
At Sauer Septic, we provide high-quality septic pumping services in Orlando, Windermere, Winter Garden, Apopka, Clermont, Casselberry, Altamonte Springs, Eustis, Ocoee, Minneola, Mount Dora, Mascotte, Leesburg, Groveland, Gotha, Isleworth, Heatherbrooke, Sky Lake, and Tavares, Florida.