Don't wait until your sewage backs up into your home to get your septic tank pumped.
Your septic tank is one of the most essential parts to keeping your home free of harmful contamination and bacteria. That's why routine septic tank pumping is one of the most critical things you can do for your home and septic system to keep it running effectively, efficiently, and without any septic backups. Failing to do so can lead to raw sewage leaking though the drains and toilets and into your home or a cracked septic tank that could contaminate the soil and ground water. You can avoid these possible disasters by scheduling septic tank pumping with us at Sauer Septic.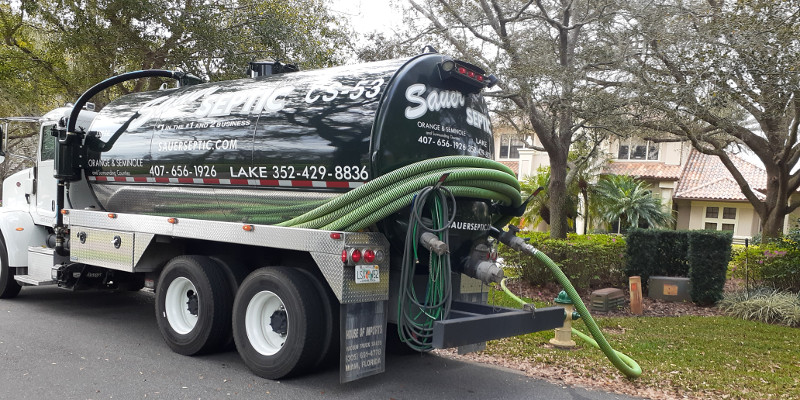 We typically recommend scheduling routine septic tank pumping every three to five years depending on the size of your tank, size of your household, and daily habits. However, that's not to say that you should wait until something bad happens to get your septic tank pumped. You should always schedule a septic tank pumping as soon as you notice something wrong with the tank or the overall septic system.
When you schedule your septic tank pumping with us, we will do a full inspection of the tank and surrounding parts to determine its condition or any needs for repair or replacement. We will then use a specially engineered vacuum-like device to pump out and dispose of built-up grease, oils, and solid waste to free up space in your tank.
We have been assisting our clients in the Winter Garden, Florida area with septic tank pumping since 1980, so our team is prepared to perform jobs of any size or difficulty to maximize your septic system, extend its lifespan, and keep you and your home safe and clean. You can trust us to respond to your call right away to get your septic tank pumped in the most efficient and effective manner.
With our decades of experience and knowledge, we are happy to perform any septic tank pumping or other septic services you might need while answering any of your questions to leave you confident that your septic system is in good hands. Hire the best septic company in the business for any of your septic system needs when you give us a call today.
FAQs About Septic Tank Pumping
Our team at Sauer Septic has received countless questions about septic tank pumping over the years, and we have assembled some of the most frequent examples below to help you save yourself some time.
What does septic tank pumping do?
Septic tank pumping does pretty much exactly what it sounds like—it removes solid waste from your septic tank using pumps and vacuum hoses. This makes more room in the tank for new waste to enter, and ensures that your tank will not overflow or back up.
Why do I need septic tank pumping?
To provide a more detailed explanation of why septic tank pumping is necessary, allow us to first explain that in a septic tank, all waste flows in, but only liquids flow out. Wastewater flows into the drain field, a network of pipes and filters, where it is treated and eventually returned to the soil, while solid waste sinks to the bottom and is broken down into sludge. That sludge stays in the tank until it is removed via pumping—and pumping is necessary in order to make more room for more waste.
How often should I have my tank pumped?
While the specifics can vary, a general guideline to follow when it comes to septic tank pumping is that you should have your tank pumped every 3 to 5 years. Larger households may require more frequent pumping services due to the increased demand put on the system.
---
At Sauer Septic, we provide high-quality septic tank pumping services in Orlando, Windermere, Winter Garden, Apopka, Clermont, Casselberry, Altamonte Springs, Eustis, Ocoee, Minneola, Mount Dora, Mascotte, Leesburg, Groveland, Gotha, Isleworth, Heatherbrooke, Sky Lake, and Tavares, Florida.
Similar Services We Offer: