Whether you need routine septic pumping scheduled or assistance with a septic issue, our team will respond to your Windermere location with the help you need.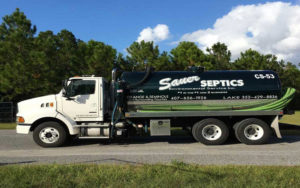 Septic Pumping in Windermere – Taking care of your property's septic tank is one of the most important steps you can take when it comes to routine care of your home or commercial property in Windermere, Florida. The best way to ensure that your entire septic system is in good shape is to have our team at Sauer Septic complete septic pumping on a regular basis. We have been providing comprehensive septic services since 1980, and whether you need routine septic pumping scheduled or you are experiencing a septic issue, our team is prepared to provide the right solution for your needs.
At Sauer Septic, septic pumping is just the beginning when it comes to the septic services we provide. From repairs to pumping and design to installation, our expertise makes us your top choice for septic solutions at your home or business. When we come to complete septic pumping, we'll make sure to provide all the information you need. We will let you know about the condition of your tank, how much waste was pumped out, and whether there is the chance you'll need to take additional steps in the near future to ensure the proper function of your septic system as a whole. And, if we discover that you need an immediate repair, we'll be happy to provide the services you need without the hassles.
We also understand that you may have concerns about how well your septic system is doing its job and need assurance that it is not contaminating the soil around your property or the groundwater that you and your neighbors may rely on if you have well water. We can thoroughly inspect the septic tank, drain field, and other components to make sure everything is working as it should, so you can feel confident all is well.
We are always happy to educate our customers on the safe practices needed to keep the septic system in top condition, so feel free to let us know if you would like more information about what you can do and should not do concerning your septic system. A few common mistakes made include flushing non-biodegradable products, misuse of the garbage disposal, using water excessively, parking on top of the drain field, and not having septic pumping done frequently enough. When we conduct septic pumping, we may notice things that we need to tell you about and are happy to share that information with you, so you can better protect your septic system from harm.
Feel free to call us any time of the day or night if you're experiencing a backup or other emergency. We've proudly served this area since 1980 as a locally owned and operated septic professional, and we're confident you'll find our services exceed your expectations. Contact us today if you have questions about septic pumping or need to schedule septic system services at your home or business. You'll achieve greater peace of mind knowing that your septic system is in good hands and in proper working condition.
---
At Sauer Septic, we provide high-quality septic pumping services in Orlando, Windermere, Winter Garden, Apopka, Clermont, Casselberry, Altamonte Springs, Eustis, Ocoee, Minneola, Mount Dora, Mascotte, Leesburg, Groveland, Gotha, Isleworth, Heatherbrooke, Sky Lake, and Tavares, Florida.