We are your go-to team for septic pumping services for your Windermere home or business.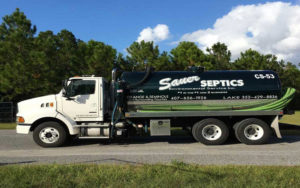 Septic Pumping Services in Windermere – Are you unsure of the last time you had septic pumping services scheduled at your home or business? Are you worried that you have a septic issue and you may need to call in the professionals? At Sauer Septic, we know that your septic system can often be the last thing on your mind until something goes wrong. Luckily, we are your go-to team for the job, whether you need to schedule routine septic pumping services, or you have a concern that needs to be addressed right away.
When we come to your home or business in Windermere, Florida for septic pumping services, we won't just pump your tank and leave you wondering about the condition of your septic system. We'll provide a full inspection and report back to you when our work is complete, so you know exactly what we did and what you should expect going forward.
With our septic pumping services, we aim to ensure that you have peace of mind that your septic system is in good shape from top to bottom, and we'll also provide the necessary repairs if a problem is discovered. You can rely on us at Sauer Septic for all your septic needs, and we'll be happy to assist you, whether you need routine maintenance or a major overhaul.
If you have just recently moved into a property with a septic system and haven't had one before, you probably have lots of questions. A septic system isn't the same as a municipal sewer, so you must know how to properly care for it. If you introduced the wrong things into the sewer, it didn't affect you directly, but that is not the case with a septic system. If you frequently put grease and oil down the sink, flush non-biodegradable items such as sanitary products, misuse the garbage disposal, or allow a water leak to overwhelm the system, you are going to be the one dealing with the repairs and perhaps even the replacement of the septic tank or drain field.
We believe you'll agree that it is better to ask us about safe practices, so you can care for it properly from day one. Also, if you do have a new property, call us for septic pumping services, so we can get you off to a fresh start with your system. We can also inspect a septic system at a property you are considering purchasing, so you know about any problems before you finalize the contract and close the sale. This will give you time to renegotiate or have the seller handle any necessary repairs or have them cover septic pumping services to provide you with a fresh tank. A comprehensive septic inspection is not part of a typical home inspection, so for added peace of mind, give us a call.
We have been providing septic pumping services and other septic solutions since 1980, and we will take care of everything from pumping to repairs and septic design to installation. Make us your number one team when you need septic pumping services, and we'll assist you without any hassles.
---
At Sauer Septic, we provide high-quality septic pumping services in Orlando, Windermere, Winter Garden, Apopka, Clermont, Casselberry, Altamonte Springs, Eustis, Ocoee, Minneola, Mount Dora, Mascotte, Leesburg, Groveland, Gotha, Isleworth, Heatherbrooke, Sky Lake, and Tavares, Florida.