It is important to us that you feel confident about the quality of septic pump-outs for your Windermere home or business.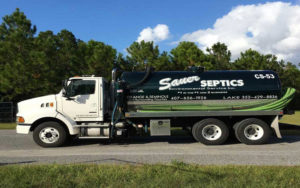 Septic Pump-Outs in Windermere – Scheduling septic pump-outs is very important, whether you are a home or business owner in Windermere, Florida. Not only will routine care of your septic tank ensure that your entire system is working well but having a professional septic company provide this service will also give you valuable information about the services you may need. At Sauer Septic, we have over three decades of experience providing septic pump-outs and other septic services to our customers. With just one visit, we are confident you'll agree that we are the best choice when you need septic services at your property.
When we come to complete septic pump-outs, we also take a good look at the septic tank, drain field, and other components to ensure they are operating properly and efficiently. We will also address any issues that may need immediate attention. You can rely on us to provide a full report of our findings and our recommendation for the proper solutions if we ascertain that your property's septic system does need repair or further attention. It is important to us that you feel confident you have received the best service possible when we complete septic pump-outs at your home or business.
We can also discuss the frequency with which you should expect to schedule septic pump-outs in the future, based on family size and how much we have pumped out in relationship to the time since the last one. If you are interested in reducing the number of visits, we can discuss ways you can reduce waste and go over which things you may be flushing or putting down the drains, causing a more frequent need for septic pump-outs. One of the most common contributors to needing a pump out sooner is frequent use of the garbage disposal. It is better to set up a compost area in your yard or send food items to the trash as these are not the best things to put into your septic system. You should also refrain from using antibacterial products as these can keep the necessary bacteria from doing their job breaking down solids.
We are a locally owned and operated business with experience completing everything from repair to pumping to design and installation of septic systems. We also manufacture our own septic tanks, should you ever need a replacement. This can be done because your septic tank has become damaged or worn out or because you wish for a larger one to reduce the frequency of septic pump-outs. This latter choice is most common with large families or a business use change. Feel free to call us to discuss this if you suspect a need for a larger septic tank.
Contact us today to schedule your septic pump-outs and other septic services or to get answers to any questions you may have about septic systems. You can rely on us at Sauer Septic for all your septic system needs. With more than 35 years of serving the area with quality services, you can be confident that we'll treat you right!
---
At Sauer Septic, we provide high-quality septic pump-outs in Orlando, Windermere, Winter Garden, Apopka, Clermont, Casselberry, Altamonte Springs, Eustis, Ocoee, Minneola, Mount Dora, Mascotte, Leesburg, Groveland, Gotha, Isleworth, Heatherbrooke, Sky Lake, and Tavares, Florida.