Our team can help you get your Windermere, FL septic system back on track with our septic tank pumping service.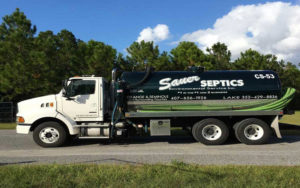 Septic Tank Pumping in Windermere – Have you recently moved into a new home and don't know anything about how well your septic system operates? Have you forgotten about your septic system and can't remember the last time it was serviced? At Sauer Septic, our team can help you get your septic system back on track with our septic tank pumping service.
Scheduling septic tank pumping for your property largely depends on how many people use the system on a regular basis. If you are a large company, you may want to have your tank pumped more often, while a small household of three or four people may only need septic tank pumping every 3 to 5 years. We can help you determine the best routine maintenance schedule to keep your septic system working its best.
We provide comprehensive services in addition to septic tank pumping that will allow you to stay on top of routine maintenance and repairs. An important service you should consider annually is septic tank inspections to make sure there are no minor issues that may turn into major problems. We can help you address your specific needs when it comes to maintenance and repairs, so you will rest easy knowing your septic system is in good operating condition.
When you need to schedule septic tank pumping for your Windermere, FL home or business, contact our team at Sauer Septic. We have been completing jobs large and small since 1980, and our professional team is results-driven to provide you the best possible services. Our comprehensive septic tank services will ensure you get the septic system care you need, and you'll be glad we are your top choice in septic companies. Contact us today if you have questions or would like to schedule an appointment. We look forward to working with you.
FAQs About Septic Tank Pumping
Septic tank pumping is one of the most important parts of maintaining your home's septic system. Below, we've answered some questions we get asked frequently about this essential septic service.
How often should I pump my septic tank?
This depends on how much water your home uses, how many people live in your house, the size of your septic tank, and other factors. But most families typically need to have their septic tank pumped every 3 to 5 years.
What are some signs I should get my septic tank pumped?
If you can smell sewage when you walk around the area near your septic tank, this is a sign you need to have it pumped. You may also need this service if your drains start to run slower than normal or if sewage starts to seep back into your toilets and sinks.
What happens when you pump a septic tank?
When we pump septic tanks, we use a high-pressure system to suck up the solid waste that has accumulated at the bottom of the tank. This leaves more room for wastewater to make its way through the tank for processing.
Why should I hire your septic company?
Our septic company has been around for decades, and we have tons of experience pumping septic tanks. We're also reliable, professional, and dedicated to doing what's right for your home and your septic tank.
How do I schedule an appointment?
Call us directly if you want to make a septic pumping appointment. We look forward to hearing from you!