Regular septic pumping services now will save you from costly repairs later.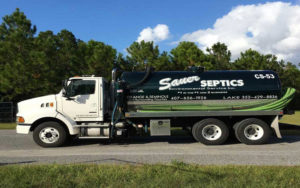 Septic Pumping Services in Tavares – Your septic tank is buried in the ground, and you probably don't think about it very often. You may not even know where the septic tank is located outside your home or business in Tavares, Florida. When it comes to septic systems, almost everyone knows that they should have septic pumping services performed regularly, but many people put it off, sometimes for years at a time. Here at Sauer Septic, we want to remind you how important it is and offer our superior septic pumping services to you today.
When you take care of your septic system and have your tank pumped regularly, it can help you avoid costly emergency repairs or replacements to your system. Generally, it is recommended that you get septic pumping services every three to five years. When we come to your home or business, we can evaluate your unique needs and let you know if you need septic pumping services more or less often. This is affected by how many people use your property, whether or not they conserve water and whether or not they follow guidelines about what to put into the system (and what to keep out).
If you have a septic system, here are some things to know:
Get leaks repaired right away. The more water that goes into your system, the harder it has to work.
Keep records of the location of your septic tank and drain field. Also, keep records of maintenance and repairs that are performed.
Don't build over or drive over your septic tank or drain field.
Try to avoid putting solids down your drains and into the system.
Don't put off your septic pumping services one more day. Give us a call today.
---
At Sauer Septic, we provide high-quality septic pumping services in Orlando, Windermere, Winter Garden, Apopka, Clermont, Casselberry, Altamonte Springs, Eustis, Ocoee, Minneola, Mount Dora, Mascotte, Leesburg, Groveland, Gotha, Isleworth, Heatherbrooke, Sky Lake, and Tavares, Florida.