You'll get an honest answer regarding septic pump-outs from us.
Septic Pump-Outs in Tavares – There seems to be some confusion as to what septic pump-outs are, how often they should be done, and whether all companies do them the same way. Here at Sauer Septic, we offer our customers in the Tavares, Florida area a clear picture about the best schedule to be on and why our services are top-of-the-line.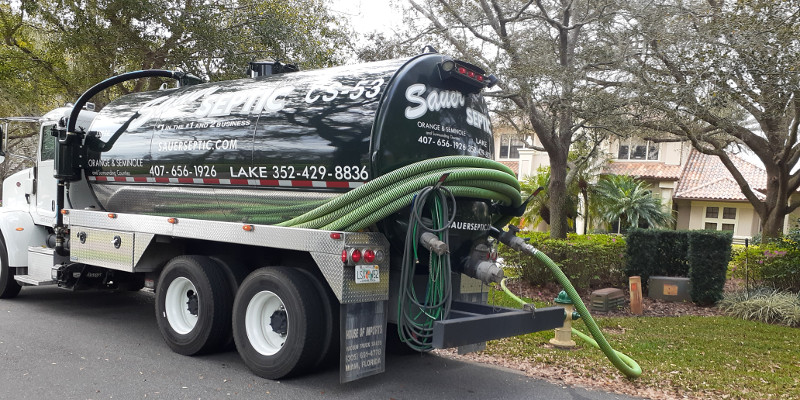 At the heart of the matter are our years of experience and our reputation for doing the right thing. Since 1980, we have put our customers' interests first. We won't perform septic pump-outs if our inspection shows it isn't necessary yet, and we won't tell you that you need septic pumping more often than you do. We look at each customer individually because no two families are exactly the same in terms of how often this maintenance is needed.
We will tell you, however, that regardless of whether septic pump-outs occur every three years, every five years, or on some other schedule, it is wise to have your system inspected every 12 to 18 months. Many things can affect the health of the septic tank and drain field, so it is best to get a jump on a small problem before it can become a costly one. More septic systems end up failing and needing to be replaced prematurely because of neglected minor repairs than any other reason. We don't want you to suffer this fate.
If you have any questions about septic pump-outs or any of our septic services for residential and commercial properties, don't hesitate to contact us. We look forward to serving you.
---
At Sauer Septic, we provide high-quality septic pump-outs in Orlando, Windermere, Winter Garden, Apopka, Clermont, Casselberry, Altamonte Springs, Eustis, Ocoee, Minneola, Mount Dora, Mascotte, Leesburg, Groveland, Gotha, Sky Lake, and Tavares, Florida.