Scheduling regular septic tank pumping services is an essential part of owning a septic system.
If you own a property with a septic system, it's crucial to schedule regular septic tank pumping services. Our team here at Sauer Septic wants to make sure you understand how important this routine maintenance task is if you want to keep your septic system in good working order and prevent a range of unpleasant and unsanitary side effects.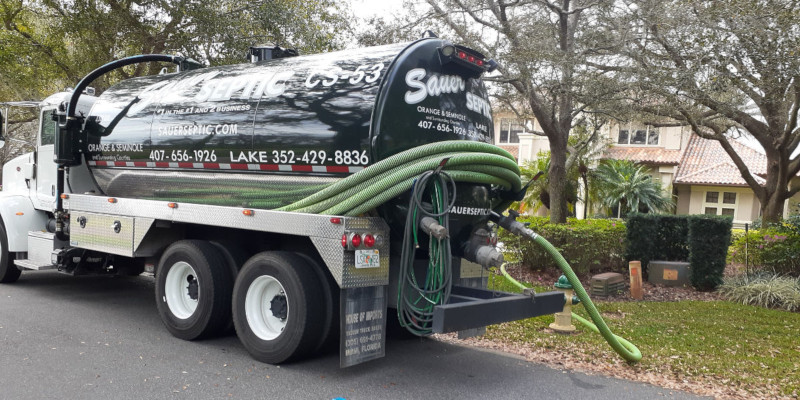 For over 40 years, our skilled team has been providing septic tank pumping services to residents throughout the Sky Lake, Florida region. When you choose us to perform your regular septic tank pumping service, we won't just thoroughly clean out your tank. We'll also conduct a careful inspection of your tank and all of its components to ensure that your system will continue to function properly for the foreseeable future. By going the extra mile and doing this septic tank inspection, we can help you identify potential issues early on, preventing more costly problems from occurring later.
In addition to our septic tank pumping and septic tank inspection services, we can also provide you with customized tips and recommendations to keep your entire system well-maintained. We'll alert you if we discover any problems that may require more extensive repairs, such as cracks in your tank or broken components within your system. You can count on us to be honest and transparent, providing you with the personal attention you deserve.
As a general rule of thumb, most septic tanks should be pumped out every three to five years, but this can vary based on a range of factors. Things like the size of your tank, the number of people in your home, and how much water you use can all impact how frequently you should schedule septic tank pumping services. If you have any questions about this process, simply ask our technicians, and they can provide you with an accurate timeline according to your specific situation.
If you need septic tank pumping services or you can't remember the last time you had your septic tank pumped, we encourage you to give us a call. Take action today to prevent septic issues from damaging your property tomorrow.
---
At Sauer Septic, we provide high-quality septic tank pumping services in Orlando, Windermere, Winter Garden, Apopka, Clermont, Casselberry, Altamonte Springs, Eustis, Ocoee, Minneola, Mount Dora, Mascotte, Leesburg, Groveland, Gotha, Isleworth, Heatherbrooke, Sky Lake, and Tavares, Florida.