Scheduling regular septic pump-outs is the best way to preserve your septic system in Orlando.
Septic Pump-Outs in Orlando – Have you forgotten the last time you had your septic tank inspected and pumped? Have you been experiencing some issues at your home or business, and you think they could be related to your septic system? At Sauer Septic, we are equipped to answer your questions and schedule routine septic pump-outs that don't leave you guessing about the condition of your septic system in Orlando, Florida. Whether you need to set up a routine schedule for your business, have just moved into a new home, or you simply have questions about the condition of your septic system, our team is here to help.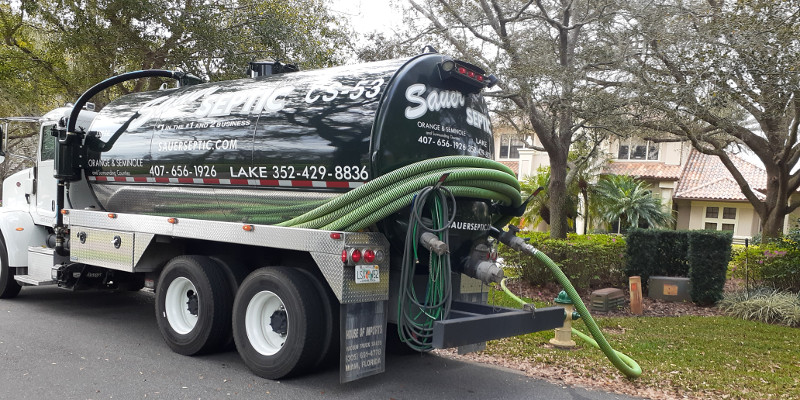 During septic pump-outs, you can expect our experienced professionals to thoroughly inspect your septic tank and your complete system to ensure that it is in good shape.
If we discover any problems, we'll be sure to communicate with you right away, so we can address the issue at hand. In fact, scheduling regular septic pump-outs is the best way to preserve your septic tank and septic system, so you enjoy long-term use without unexpected and expensive repairs. And, if we do discover an immediate problem, you don't have to worry. You can rely on us to handle the job from start to finish, so you are left feeling confident your home or business is in good shape.
Contact us at Sauer Septic today if you need to schedule septic pump-outs for your home or business in Orlando. We have been assisting our customers with their residential and commercial septic needs since 1980, and no job is too big or small for us to handle. We also provide convenient 24-hour emergency service, so you can call us any time of day or night for all your septic system needs.
FAQs Regarding Septic Pump Outs
Owning a septic system requires you to give your septic system care and maintenance. Like a vehicle, it needs regular checks and tune-ups in order keep running smoothly. Septic pump outs are an important part of septic system care, and we here at Sauer Septic have been able to help many people with this service over the years. We have encountered many of the same questions regarding this service, and we hope that this frequently asked questions (FAQ) section will be of service. Consider some of the following questions we get on a regular basis:
How much will a septic pump out cost?
That depends on the size and location of your tank! We are happy to give you a free quote over the phone with a little more information regarding your tank.
How long will it take?
Again, this will depend on the size and location of your tank, but we can provide an estimate on timing along with your cost estimate when you contact us.
Can you help me locate my tank?
Yes! We know that some new homeowners might not know the location of their tank, and we are happy to use our skills to help you find it.
Do you offer emergency services?
Yes! We offer emergency services that are available to you 24/7.
How do I know I need a septic pump out?
There are many ways to determine if you need a septic pump out. You need to consider the time between
pumping services
and try to schedule service before any problems make pumping urgent. We are happy to help you know how often you should expect to need pumping based on factors such as tank size and household size. You should also watch for physical signs that pumping or other repairs need to be done, such as lush grass around your tank, backflow, foul odors, etc.
If you have additional questions about septic pump outs, we would love to assist you. Please contact us today to learn more.
---
At Sauer Septic, we provide high-quality septic pump-outs in Orlando, Windermere, Winter Garden, Apopka, Clermont, Casselberry, Altamonte Springs, Eustis, Ocoee, Minneola, Mount Dora, Mascotte, Leesburg, Groveland, Gotha, Isleworth, Heatherbrooke, Sky Lake, and Tavares, Florida.