The next time you're in need of septic tank pumping services in Orlando, make the right choice and leave things up to us.
Septic Tank Pumping in Orlando – If you own a property in Orlando, Florida with a septic system, you probably already know that regular septic tank pumping is important, but you may also wonder how important it really is. At Sauer Septic, we want to emphasize that septic tank pumping is one of the most critical things you can do for your septic system as a whole to keep it running efficiently and effectively.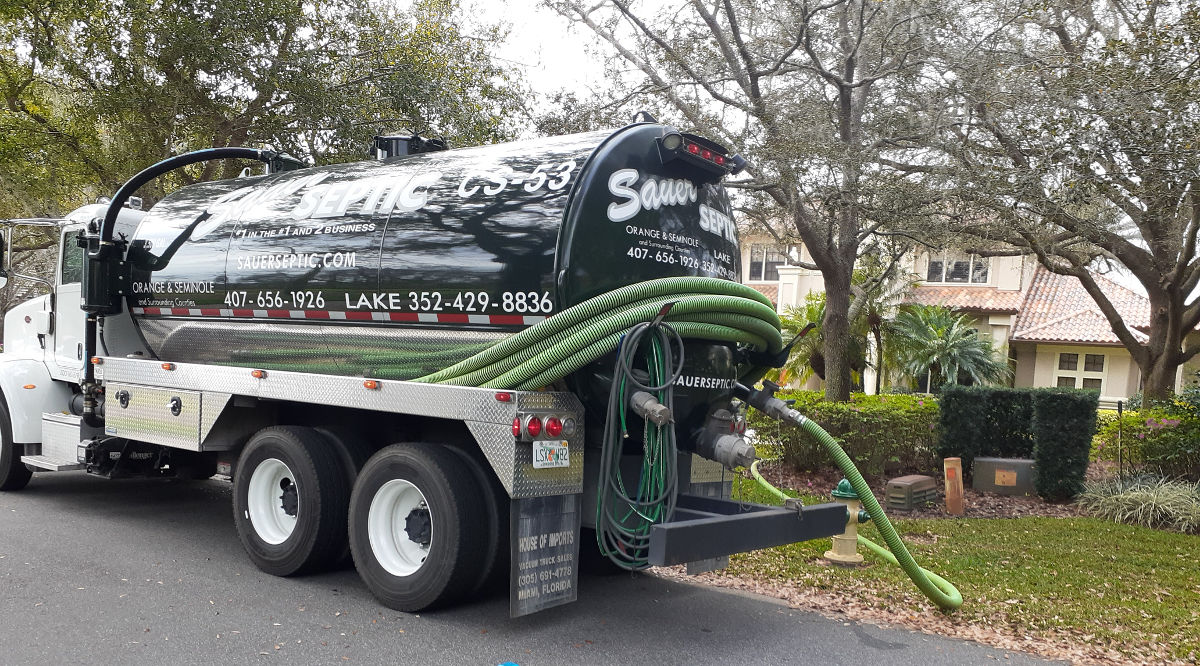 Septic tank pumping is your first line of defense against septic backups at your home or business, and it can also be your first alert that something needs more attention. During our septic tank pumping services, we provide a full inspection of your septic tank and the surrounding components and can determine whether your system is in great shape or if it needs a repair or replacement part. While you may not need septic tank pumping every year, keeping up with this routine maintenance on the recommended schedule will ensure that your septic tank is truly in the condition you need it to be.
Our technicians at
Sauer Septic pump septic tanks
using a high-powered device to eliminate grease, oils, and solid waste that has accumulated in the tank. This frees up more space in the tank for incoming wastewater and reduces the chances of a septic backup. After we collect this waste, we'll dispose of it using methods approved of by local regulatory agencies. Once septic tank pumping is complete, we can check the tank for cracks or other damage that may cause unexpected problems later on. It also gives us a chance to recommend the best care of your septic system in-between pumping, so you are less likely to have to worry about an unexpected septic emergency.
If you aren't sure how often you should reach out to us for septic tank pumping in Orlando, keep in mind that most tanks need to be pumped every three to five years. However, this timeline can vary depending on the size of your septic tank, how many people live in your household, and how much water your household uses on a daily basis. This timeline is also different for businesses than it is for residential septic systems. We'd be more than happy to inspect your septic tank and determine exactly how often you should have your tank pumped. We'll also make sure you receive a full report on the condition of your septic tank, and we'll work with you to keep your entire septic system working its best year after year.
The Importance of Septic Pumping
Is it time to pump out your septic tank?
The next time you're in need of septic tank pumping services, make the right choice and leave things up to us at Sauer Septic. As a locally owned and operated company that's been around since 1980, we're all about exceeding customer expectations. You can also rely on us for septic design, installation, and repair, should you ever need these important services for your home or business in Orlando. Give us a call today for more information.
---
This is the company to hire.
"No doubt, this is the company to hire to not only perform septic service but also to receive experienced advice about septic system replacement options and benefits. This is a family-owned business. They were prompt for the appointment, price was competitive, and they carefully replaced our grass after pumping out the septic tank."
★★★★★ Kathleen M.
Similar Services We Offer: