We recommend turning to us for septic pumping in Ocoee about every three years.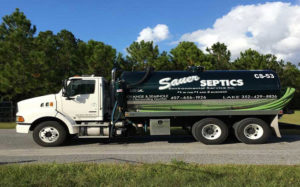 Septic Pumping in Ocoee – When it comes to keeping your septic system in good shape, pumping out the tank on a regular basis is one of the best things you can do to preserve its lifespan and functionality. At Sauer Septic, we recommend turning to us for septic pumping in Ocoee, Florida about every three years. However, how often you need to get your tank pumped depends on how much water you use, the size of your septic tank, and how many people live in your household.
Septic pumping is so important because without it, solid waste would continue to build up in your tank until there wasn't any room left for additional wastewater. The septic pumping process is designed to eliminate this solid waste from the bottom of your septic tank to ensure wastewater is able to flow freely through your system and out to your drain field for treatment.
You should choose us as your septic maintenance company because when we pump septic tanks, we take the time to inspect them for existing and potential problems. When we pump your tank, we will let you know if there are any issues that you should take care of now to avoid extensive and expensive repairs in the future.
If you want to know more about the septic pumping process and what it entails, we'd be more than happy to give you further information. Give us a call at Sauer Septic today to speak with one of our friendly septic professionals!
FAQs About Septic Pumping
Our team at Sauer Septic is here to take care of all your septic pumping needs and to answer all your questions about this service. Keep reading to learn the answers to a few of our most frequently asked questions on the subject of septic pumping.
What is septic pumping?
To put it simply, septic pumping is the process of removing solid waste from the septic tank to make room for more. There's a finite amount of space inside your tank, and it will gradually fill up, so you'll eventually need to empty it out again. Fortunately, you don't have to do this task yourself, but can (and should) leave it to our experts instead. We'll bring our tanker truck to your property and pump everything out of your tank, and then haul it away for you.
How do I know if I need septic tank pumping?
The easiest way to approach septic pumping is to set up a regular schedule, but there are also signs you can look for to tell you if your tank needs to be pumped soon. For example, if your toilets and drains start to take longer to empty, or if sewage backs up into your home, then you should schedule septic pumping as soon as possible.
How often should I schedule septic pumping services?
The answer to this question depends on the capacity of your tank and the number of people in your household. For example, if you have a four-person household in a home designed for two, you'll need to get your tank pumped more often than a household of one in a home meant for four. Our team can assess your system and recommend the ideal pumping schedule for your needs.