Our comprehensive septic pumping services will provide the solutions you need in Ocoee.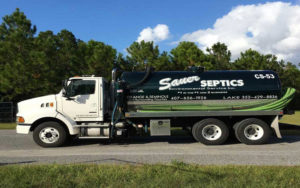 Septic Pumping Services in Ocoee – At Sauer Septic, we understand that calling about your septic system isn't usually on your priority list unless something unexpected happens. However, we always recommend calling for septic pumping services to prevent those unexpected events from occurring. If you own a home or business in Ocoee, Florida that utilizes a septic system for wastewater management, then you may find that our comprehensive septic pumping services at Sauer Septic provide the solutions you need.
Pump-Outs – With our septic pumping services, not only can we recommend the frequency with which you should schedule your septic pump-outs, but we can also provide septic cleaning services on a routine basis. This simple task alone can be the best way to prevent future septic emergencies.
Inspections – With our septic pumping services, we can also provide septic inspections that help to determine the wear and tear your septic tank and other components may have endured over time. It's important to know when you may need additional services to keep your septic system working its best.
Repairs – If we discover that you have an issue with your system during our septic pumping services at your home or business, we'll be happy to provide the repairs you need to ensure that your septic system is in top shape.
If you have questions about our septic pumping services or you need help determining when you should schedule your next appointment, contact us at Sauer Septic today. We have over 30 years of experience helping our customers with all their septic system needs.
---
At Sauer Septic, we provide high-quality septic pumping services in Orlando, Windermere, Winter Garden, Apopka, Clermont, Casselberry, Altamonte Springs, Eustis, Ocoee, Minneola, Mount Dora, Mascotte, Leesburg, Groveland, Gotha, Isleworth, Heatherbrooke, Sky Lake, and Tavares, Florida.