We can assist with routine septic pump-outs at your home or business in Ocoee.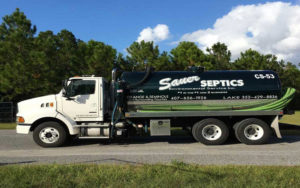 Septic Pump-Outs in Ocoee – Even if you know septic pump-outs are an essential part of your septic maintenance plan, knowing who to call for this important service is a different story. While there are a lot of septic companies out there, having an experienced team to assist you whether you need routine maintenance or a major overhaul will give you peace of mind.
At Sauer Septic, we are ready to help with all your septic servicing needs, including routine septic pump-outs in Ocoee, Florida.
Offering both residential and commercial septic-pump-outs, our team at Sauer Septic has decades of experience providing a range of services for our customers. Whether you have begun to experience problems with your septic tank and need an inspection when we come out or you aren't sure of the last time you scheduled a septic pump-out, all you need to do is give us a call at Sauer Septic. We can provide routine servicing, offer troubleshooting and advice for any problems, and make expert recommendations to keep your septic system working well year after year. We are licensed and insured and have been providing comprehensive septic services since 1980 – and that makes us your go-to team for any septic job, large or small.
Contact us at Sauer Septic today for more information about our septic services or to schedule septic pump-outs for your home or business. We know you won't need to turn anywhere else when you call us for all your septic system needs in Ocoee. We look forward to working with you!
FAQs About Septic Pump-Outs
If your home has a septic system, you will need to schedule regular septic pump-outs to keep it in good working order. Below, our team at Sauer Septic will answer a few of our most frequently asked questions on the subject to give you a better idea of how to care for your septic system.
What are septic pump-outs?
The term septic pump-outs is another way to say septic pumping, and both terms refer to the process of removing solid waste from your septic tank. In a private septic system, solid waste sinks to the bottom of the tank and stays there until it is removed via pumping. Our team has the right equipment to tackle this necessary but unpleasant task, and you can count on us to keep your septic system in good working order.
How often should I schedule septic pump-outs?
This question can be tricky to answer since it can vary a great deal from tank to tank and household to household. Someone living alone in a big house will not need to get their tank pumped as often as a large family living in a small house. Our team can assess your system and household to figure out the best septic pump-out schedule for your needs, but a good ballpark estimate is to get your tank pumped once every three to five years (according to the EPA).
How can I tell when to schedule septic pump-outs?
As your septic tank approaches its full capacity, you will likely start to see a few warning signs. For example, your home and yard may start to smell like sewage, and you may start to see sewage backups in your toilets and drains. It is always best to not neglect getting your septic tank pumped, as you want to avoid the negative consequences that can come from delaying.