Septic pump-outs are an integral part of septic ownership.
A septic system is like a small, miniaturized wastewater treatment station that is buried underground. Septic systems are quite efficient, effective, and when treated and cared for properly, can actually perform just as well as a city sewer system. Here in the Minneola, Florida area, you will find that many people appreciate having a septic system, and our team here at Sauer Septic wants to help you care for your system with all the necessary services, including septic pump-outs.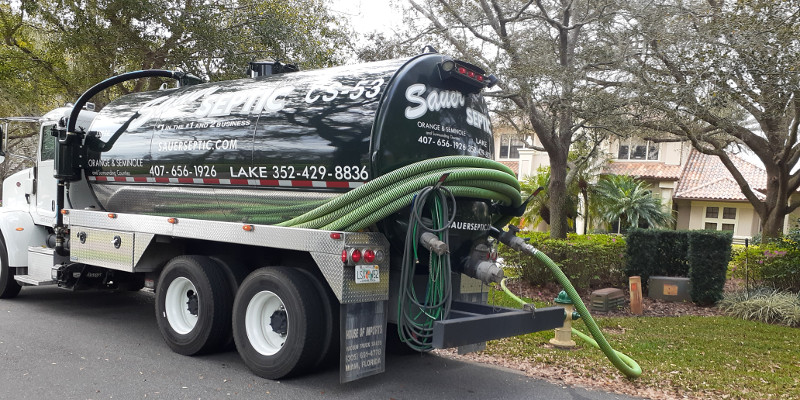 Septic pump-outs need to occur on a regular basis to ensure that your tank does not overflow. With septic systems, your septic tank does a lot of the treatment in the tank, where solids separate from the effluent water, which is allowed to move further through the system down to the drain field. Your septic tank only has room for a set amount of solids, and septic pump-outs empty the tank before it is overly filled.
Your schedule for your septic pump-outs can vary, but it depends on several different factors. Some of these factors include things like the size of your house, the tank capacity, and how many people are in your house. Even small details such as your laundry habits and garbage disposal usage can affect the timing of your septic pump-outs. At Sauer Septic, we can help you determine the best schedule for your unique situation.
At Sauer Septic, we have been working with septic systems of all types, shapes, and sizes since 1980. Our decades of experience and expertise make us a wonderful resource for all septic services, including septic pump-outs. If you have any septic questions or would like to schedule a septic pump-out, we would like to talk with you. Please give us a call today to learn more.
---
At Sauer Septic, we provide high-quality septic pump-outs in Orlando, Windermere, Winter Garden, Apopka, Clermont, Casselberry, Altamonte Springs, Eustis, Ocoee, Minneola, Mount Dora, Mascotte, Leesburg, Groveland, Gotha, Isleworth, Heatherbrooke, Sky Lake, and Tavares, Florida.