Our experts want to help you get control of your septic tank pumping needs and scheduling.
Owning a septic tank is very similar to owning your own personal wastewater treatment plant. The difference between septic tank ownership and city water use is that you need to handle the disposal of the waste solids with the help of experts like us at Sauer Septic. If your business or home is in need of septic tank pumping, our team here at Sauer Septic would like to help you with your septic needs.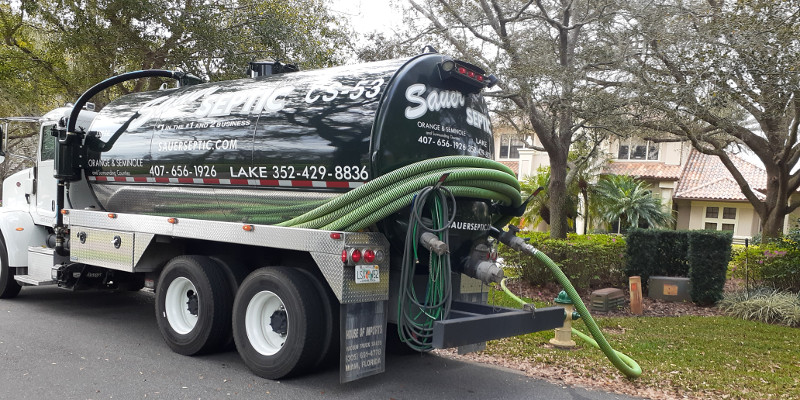 Because we have been in business since 1980, we have had several decades to practice and perfect all our septic services, including septic tank pumping. We have taken the time to get the right equipment to make even the largest of septic tanks easy to empty in a shorter amount of time. Additionally, we have seen how other companies have struggled when septic tanks have grease or other oils in the tank along with the solids. To combat this problem, we have equipment that works quickly and powerfully to get rid of these solids in a safe manner.
When we handle your septic tank pumping, we do so professionally and efficiently. We know that most homes and businesses have important matters to attend to, and we make it our mission to do a thorough job in a reasonable timeframe.
We want to safeguard you against septic tank emergencies through proper septic tank pumping scheduling. Businesses and homes obviously have very different schedules, so give us a call if you have questions about the timing that is best for your business. If you have questions about septic tank pumping or any of our other services for your Minneola, Florida property, give us a call today here at Sauer Septic.
---
At Sauer Septic, we provide high-quality septic tank pumping services in Orlando, Windermere, Winter Garden, Apopka, Clermont, Casselberry, Altamonte Springs, Eustis, Ocoee, Minneola, Mount Dora, Mascotte, Leesburg, Groveland, Gotha, and Tavares, Florida.
Similar Services We Offer: