We make maintaining your septic tank easy.
Septic Pump-Outs in Mascotte – One of the great things about septic systems is that they're relatively low-maintenance. At the same time, taking care of maintenance is still incredibly important, especially when it comes time to pump out your tank. If you're looking for a reliable septic company to come and pump out your septic tank, get in touch with us at Sauer Septic. We're the Mascotte, Florida area's top source for septic pump-outs, and we offer a job well done along with unparalleled customer service.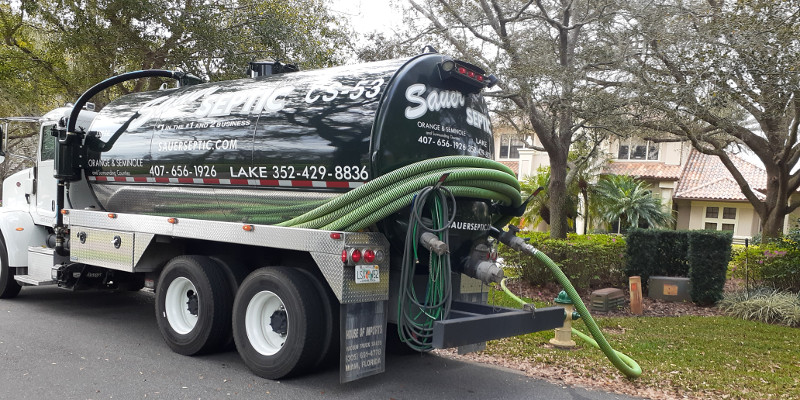 Many of our clients ask us how often they need to pump out their septic tank, especially if they're new to septic ownership. Most homes require septic pump-outs approximately every 3 to 5 years, but this can depend on how many people live in the home, how much water the home uses regularly, and the size of the septic tank. We can help you determine how often you should get your tank pumped, so you never run into an emergency situation.
We do thorough work when we pump out septic tanks. This means we clear out all the solid waste and watch out for any minor repairs that need to be done. If additional work does need to be done, we'll give you an honest estimate and come back at a time that works for you.
We'd be happy to tell you more about septic pump-outs and why they're such an important part of your septic maintenance plan. Contact us at Sauer Septic today to find out more or to schedule your next service appointment!
---
At Sauer Septic, we provide high-quality septic pump-outs in Orlando, Windermere, Winter Garden, Apopka, Clermont, Casselberry, Altamonte Springs, Eustis, Ocoee, Minneola, Mount Dora, Mascotte, Leesburg, Groveland, Gotha, Isleworth, Heatherbrooke, Sky Lake, and Tavares, Florida.