Count on our nearly 40 years of experience to give you the best septic tank pumping and other services in the area.
Septic Tank Pumping in Mascotte – While it might seem like anyone with a septic tank pumping truck and equipment can provide the services you need for your Mascotte, Florida home, the reality is there is a right and wrong way to go about this vital service. Here at Sauer Septic, we have been in business since 1980 and owe our longevity to our commitment to doing things the right way and providing unrivaled customer service.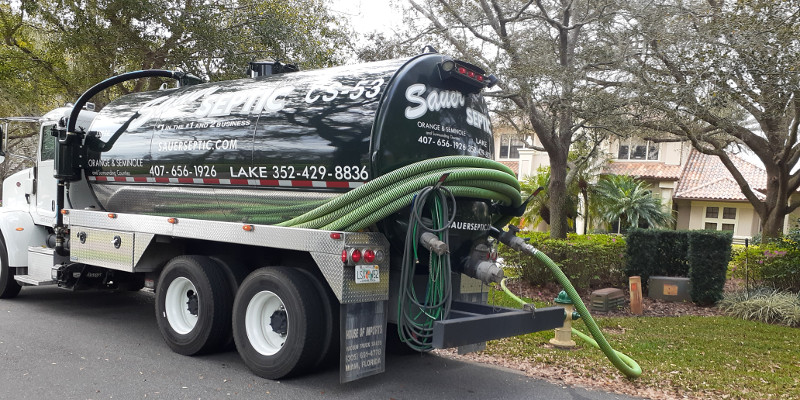 Another reason to turn to us for your septic tank pumping needs is that we are a full-service septic contractor, so should you need other services down the road, you won't need to wonder who to call. If you need a new tank, we not only install them – we manufacture them! That allows us to attend to all the details, so you'll get the best results and longest life from your new system.
You don't have to rely on our claims that we're the best option for septic tank pumping. There are plenty of testimonials out there on Angie's List and HomeAdvisor, and we're an accredited business with the BBB. Maintaining our reputation for quality is important to us, so you can be confident we won't cut corners with any of your septic services.
If you have any questions about your Mascotte, Florida septic system or would like your system inspected and septic tank pumping performed if needed, give us a call today. We provide our services for both residences and commercial properties, so your home and business will be in the best possible hands when you call on us!
FAQs About Septic Tank Pumping
If you have recently moved to a home with a septic tank, it's understandable to have questions about how to maintain this system. Our team at Sauer Septic has received countless questions on the topic over the years, so we have a good idea of the things that concern people when it comes to septic tank pumping. We have assembled the answers to some of our most frequently asked questions below for you to check out.
How often do I need septic tank pumping services?
The answer to this question depends on the size of your tank and the number of people in your household, as well as other factors, such as how often you do laundry or run the garbage disposal. In general, we recommend that your tank be pumped every 3 to 5 years. If you want a more precise recommendation, give us a call to have our team assess your tank and give you an answer.
Why is septic tank pumping necessary?
The reason why your septic tank needs to be pumped is because unlike in a public sewer system, where all waste is pumped to treatment facilities, solid waste will remain in the tank until it is removed. Over time, the level of sludge will build up and take up more and more space inside the tank, and you will need septic tank pumping to get rid of that sludge and ensure your tank does not overflow.