Regular septic pump-outs offer several advantages to your system.
There are many things that you need to do to maintain and preserve your Leesburg, Florida area home! With regular maintenance checks and procedures, it should come as no surprise that, if your home has a septic system, septic pump-outs should be a top-priority in terms of regular maintenance. Here at Sauer Septic, we are the experienced experts that you want taking care of your septic system, and we have a few reasons why you should consider septic pump-outs for regular maintenance.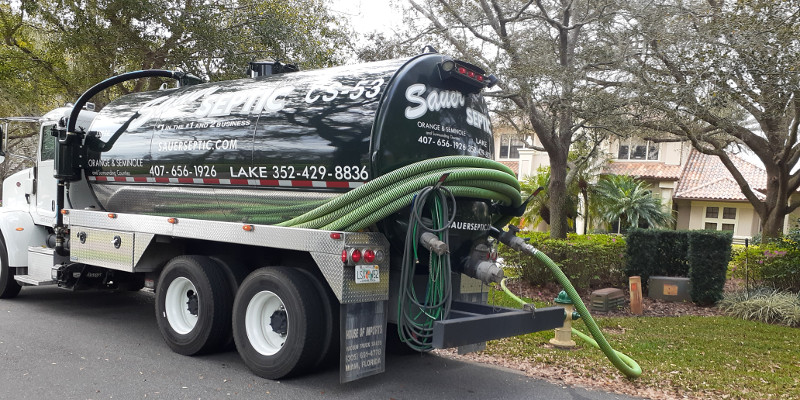 Keeps costs low. While it may seem counterintuitive to pay someone in order to keep your costs low, regular septic pump-outs are a great cost-saving measure. Because regular checks and pump-outs of your septic system allow for more inspections and maintenance, we can catch problems while they are still minor, inexpensive repairs.
Prevents septic floods. Septic systems have a limit and when that limit is breeched, you can end up with an expensive mess on your hands. Regular septic pump-outs are able to prevent costly issues such as an overflowing tank or flooding, which in turn saves you money.
Alerts you to potential problems. Septic pump-outs are one of the few times that our experts are able to get a really good look at the interior condition of your tank. Pump-outs alert us to problems that you might be able to fix easily and without much hassle.
Septic pump-outs vary in terms of scheduling due to many different factors. If you have questions about septic pump-outs or would like to learn about optimizing your experience, please contact us at Sauer Septic today.
---
At Sauer Septic, we provide high-quality septic pump-outs in Orlando, Windermere, Winter Garden, Apopka, Clermont, Casselberry, Altamonte Springs, Eustis, Ocoee, Minneola, Mount Dora, Mascotte, Leesburg, Groveland, Gotha, Sky Lake, and Tavares, Florida.