At Sauer Septic, our nearly forty years of experience and excellent customer care make us a top choice for septic tank pumping.
As waste enters your septic tank, the solid material settles at the bottom, grease and oils rise to the top and effluent, a clear liquid, stays in the middle until it drains out slowly into your drain field where it will be treated naturally. Over time, what is left in the tank will build up requiring the need for septic tank pumping.  In order to keep your septic system running properly, it is critical that you have your tank pumped regularly.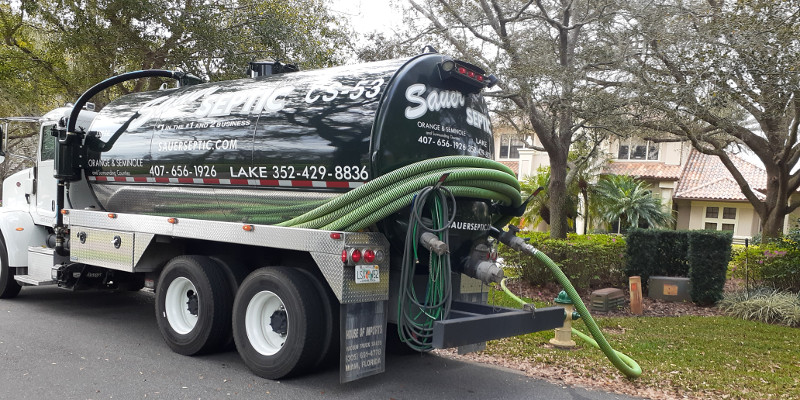 The simplest way to avoid problems with septic backup is to make sure that you get septic tank pumping on a regular basis. In addition, when you come to us at Sauer Septic, we also provide a full inspection of your septic system, so you can know that everything is working as it should, or catch any issues early on, preventing large and expensive repairs in the future.
For most septic systems in Leesburg, Florida, we recommend septic tank pumping at least every three to five years. However, this recommendation can vary. When determining how often to pump your septic tank we consider:
The size of your septic tank
If the system is serving a residence or commercial business
The number of people living in your household
The amount of water being used each day
Other factors may also come into play. The best way to know how often you should have septic tank pumping is to call us at Sauer Septic. Our highly experienced and friendly technicians can determine exactly how often you'll need pumping, as well as help you create a maintenance schedule to ensure the health of your septic system.
At Sauer Septic, our nearly forty years of experience and excellent customer care make us a top choice for septic tank pumping. Call to schedule yours today.
We Have the Answers to Your Septic Tank Pumping Questions
There are many parts of the country where the homes and even commercial businesses utilize septic tanks rather than a city wastewater treatment plant. If you have a septic tank or are simply new to septic tank ownership, then our team at Sauer Septic would like to assist you. We have been in business since 1980 and would be delighted to help you learn about all necessary septic services, including the ever-important septic tank pumping service. We know that you likely have questions, and we want to answer some of the most common questions here.
Why do I need to have septic tank pumping done?
Septic tank pumping is one of the most important maintenance services for your system. Septic tank pumping removes the solid waste that cannot be treated with a septic system.
How often do I need to have septic tank pumping done?
Experts recommend anywhere from 3-5 years on average, but we strongly encourage you to know the different factors, such as tank size, household capacity and other habits that could increase or decrease that timespan.
Will I know when my septic tank is full?
Our septic experts and others in the field strongly recommend that you pump regularly according to your pumping schedule to avoid a full tank. Some people recognize signs of a full tank by noticing drains and toilets draining slowly, odors emanating from the ground, or standing water around the septic tank. Emergency septic cleanup can be expensive and very messy, so it's best to get this taken care of when you need it.
If you need help with septic tank pumping, our experienced experts are here for you! Contact us today to learn more or to make an appointment.
---
At Sauer Septic, we provide high-quality septic tank pumping services in Orlando, Windermere, Winter Garden, Apopka, Clermont, Casselberry, Altamonte Springs, Eustis, Ocoee, Minneola, Mount Dora, Mascotte, Leesburg, Groveland, Gotha, Isleworth, Heatherbrooke, Sky Lake, and Tavares, Florida.
Similar Services We Offer: