For septic pumping services performed by an experienced, honest and reliable team, call us at Sauer Septic.
Though bacteria help to break down much of the organic material in your septic tank, eventually there will be too much buildup left, leaving no room for water. This can result in sludge leaking into your home's pipes or your leach field, or it can even cause the system to fail. This is why septic systems should be pumped every three to five years. Having your septic system pumped regularly is an affordable process that helps maintain the health of your Groveland, Florida septic system. Avoiding or delaying septic pumping services can lead to expensive repairs or a septic replacement.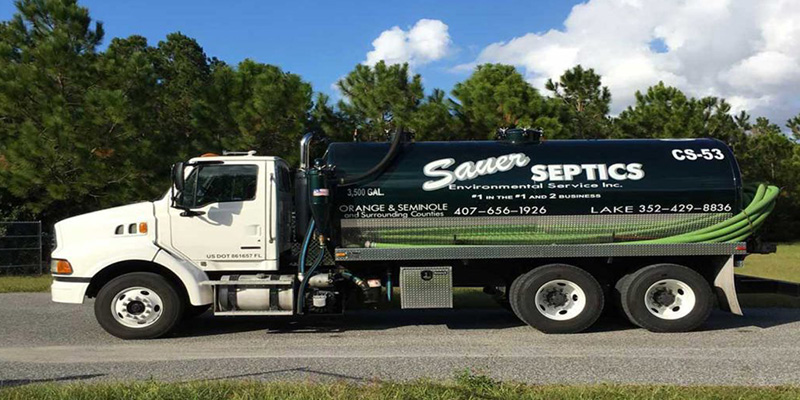 For over thirty years, our team at Sauer Septic has been providing residential and commercial customers with all of their septic system needs. We have a deep understanding of how your septic system works and how to keep it in optimal condition. Our extensive experience and honest, reliable service make us a great choice to call for your septic pumping services. We can perform your pumping services efficiently, and if any problems turn up that need addressing, we can either remedy the situation right away or work with you to schedule a repair.
We built our company based on trust, respect, and teamwork. We work with our customers to meet all of your septic system needs and educate you on maintaining the health of your septic system. We provide high-quality work at a fair rate. We have a goal of maintaining the beauty of Florida, and our business is recognized by the Florida Onsite Waste Water Association and the West Orange Chamber of Commerce. We also have excellent ratings with the Better Business Bureau (BBB).
Call us today to schedule septic pumping services for your Groveland home or business.
---
At Sauer Septic, we provide high-quality septic pumping services in Orlando, Windermere, Winter Garden, Apopka, Clermont, Casselberry, Altamonte Springs, Eustis, Ocoee, Minneola, Mount Dora, Mascotte, Leesburg, Groveland, Gotha, Sky Lake, and Tavares, Florida.