You can count on us for reliable and efficient septic pump-outs.
If you own a home or property with a septic system, you should know that maintaining your septic system is the key to a properly functioning system. Many people do not do anything with their septic systems until they experience a problem. This is not recommended because it can cost you so much more money in repairs if you wait until a problem arises. One thing you should have done regularly to keep your septic system in good working condition is to have septic pump-outs done. This will prevent your tank from getting too full and causing many different problems.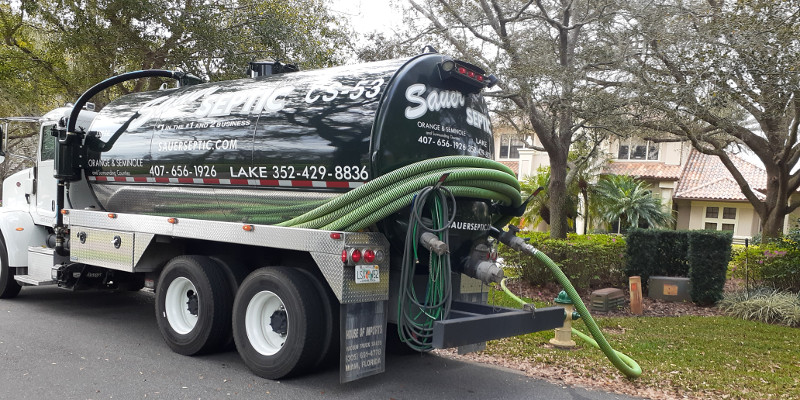 At Sauer Septic, we know how important it is to have septic pump-outs done on your septic system regularly, which is why we offer this service for a very affordable price. We can schedule maintenance visits with you and can make sure pump-outs are done on a regular basis to keep your septic system in good condition. If you do not have pump-outs done on a regular basis then you can have problems like leaks in your drain field, pipes cracking, or even the tank itself cracking. A full septic tank will also cause problems in your home. It can back up your sinks and toilets and you could have a sewage flood to deal with if things get especially bad. We can help you avoid these problems by taking excellent care of your septic system. You will be in good hands with us.
If you would like to have septic pump-outs done on your Groveland, Florida property, contact us today at Sauer Septic. Our years of experience and knowledge and our commitment to excellent customer service will make it an easy task. All you have to do is call and we will take care of the rest. We have an outstanding record with the Better Business Bureau and are recognized by the Florida Onsite Waste Water Association and the West Orange Chamber of Commerce. You can count us for all of your septic system needs.
---
At Sauer Septic, we provide high-quality septic pump-outs in Orlando, Windermere, Winter Garden, Apopka, Clermont, Casselberry, Altamonte Springs, Eustis, Ocoee, Minneola, Mount Dora, Mascotte, Leesburg, Groveland, Gotha, Isleworth, Heatherbrooke, Sky Lake, and Tavares, Florida.