We can help maintain your septic system to prevent costly issues from occurring.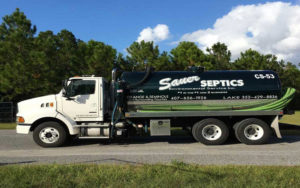 Almost everything we own benefits from regular maintenance- our cars, homes, yards, and yes, our septic systems. Septic systems are one of the most important components in your home, as safe wastewater removal is imperative for the safety and health of your family. With regular septic pumping, you can easily maintain your septic system and prevent unexpected, costly issues from popping up.
At Sauer Septic, we perform septic pumping for residences and businesses in Gotha, Florida. Septic systems are designed so the solid waste and sludge sinks to the bottom of the tank, and the liquid waste, or effluent, floats and is dispersed throughout the drain field. If there is too much solid waste, clogs can form that can allow the waste to enter the drain field or cause backups in your home. Septic pumping serves to remove the solid waste from your tank to prevent these issues.
Regular septic pumping will prevent contaminated wastewater from leaching into your drain field, causing hazardous contamination that can be dangerous for you, your family, and your pets. If you are in need of septic pumping, please reach out to us! We are licensed and insured, are locally owned and operated, and offer emergency services to take care of your needs. We know the importance of your septic system and will make sure things are functioning properly and efficiently. Our professional team is the best in the business, and we will bring our expertise and experience to each job. We look forward to serving you for all of your septic needs!
---
At Sauer Septic, we provide high-quality septic pumping services in Orlando, Windermere, Winter Garden, Apopka, Clermont, Casselberry, Altamonte Springs, Eustis, Ocoee, Minneola, Mount Dora, Mascotte, Leesburg, Groveland, Gotha, Sky Lake, and Tavares, Florida.