We are available to provide a full inspection of your septic system and complete septic pump-outs in Eustis.
Septic Pump-Outs in Eustis – There is one important part of your home or business that can often go unnoticed but should always see routine servicing for the best outcomes: your septic system. At Sauer Septic, we always emphasize the importance of septic pump-outs at your property because it is the best way to ensure that your entire septic system is functioning its best in Eustis, Florida. In fact, knowing when to schedule a septic pump-out can help preserve your system and ensure that you never have to worry about unexpected repairs or septic emergencies.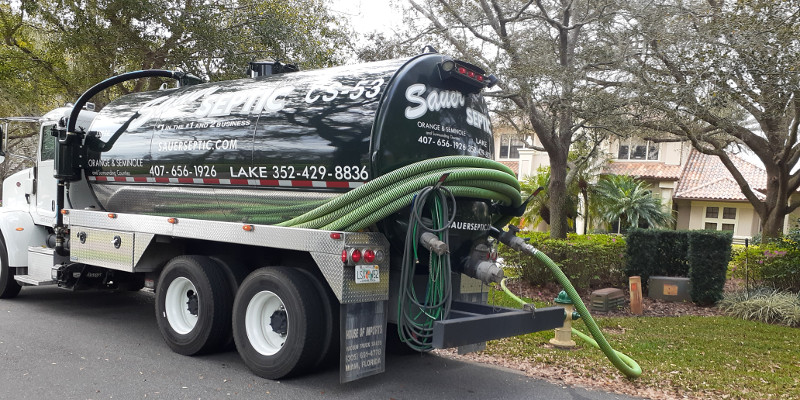 The size of your household or business type, the frequency with which your system is used, and the age and condition of your septic system will determine the best schedule for septic pump-outs at your property. At Sauer Septic, we are always available to provide a full inspection of your septic system, complete routine septic pump-outs, and provide recommendations for the best way to care for and maintain your septic system over the long term.
If there ever comes a time when you need a new septic tank installation, you'll also find our team at Sauer Septic equipped to provide the expert services you need. Not only do we manufacture our own septic tanks, but we also make sure that your property is equipped with the best septic equipment, so you have complete peace of mind.
Contact us today for more information about septic pump-outs and to schedule this important service at your home or business in Eustis. We are equipped to assist with all of your septic system needs.
---
At Sauer Septic, we provide high-quality septic pump-outs in Orlando, Windermere, Winter Garden, Apopka, Clermont, Casselberry, Altamonte Springs, Eustis, Ocoee, Minneola, Mount Dora, Mascotte, Leesburg, Groveland, Gotha, Sky Lake, and Tavares, Florida.