In Clermont, there's no better company to help you with septic pumping services than Sauer Septic.
Septic Pumping Services in Clermont – Not many of us put much thought into what happens when our wastewater goes down the drain. However, if you are a septic system owner, you will need to familiarize yourself with the importance of knowing exactly what happens with your wastewater because, without proper maintenance, you can have a serious literal and figurative mess on your hands!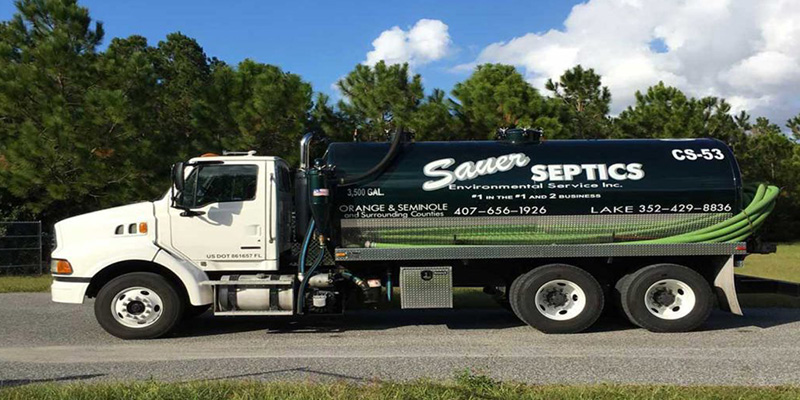 Whether you are new to septic system ownership or feel yourself fairly knowledgeable, our team here at Sauer Septic wants to be the one you call for your regular septic pumping services.
Here at Sauer Septic, we have been working hard with people in Clermont, Florida for many decades now. We know the importance of establishing good relationships with our clients, as well as providing them with top-notch septic pumping services. Our consistently positive relationship with our clients is represented in our long history with the community, our BBB standing, and even testimonials of actual clients! We know that we can help you see the dedication we have to the area and our clients when you become a customer of Sauer Septic.
Our business is not just reputable because of our client relationships, but also because of the scope of our expertise. We have been working in the Florida region for well over 30 years now and have broadened and mastered a wide range of skills in that time. No matter the size of your septic system, we can provide a septic pumping service that will work for your needs, whether commercial or residential.
If you would like to learn more about how our team at Sauer Septic can help you with your septic pumping needs, we would love to hear from you. Call us today!
FAQs About Septic Pumping Services
Here at Sauer Septic, we receive many questions about our septic pumping services, and we are happy to provide the answers you need. We have put together the answers to some of our most frequently asked questions on the subject below for you to check out.
How often should I have my tank pumped?
How often you require our septic pumping services will depend on several factors, such as the size of your tank and how many people live in your household. For example, if your home is designed for a family of 4, but there are only two people living there, you will likely not need to have your tank pumped as often. Our team can assess your tank and your water usage habits and calculate how often you will need our services—then, we'll set you up on a recurring schedule so that you never need to worry about missing an appointment.
What are some signs that I need to have my tank pumped?
There are a few signs that indicate you need septic pumping services. If you notice that your drains take forever to drain, sewage is backing up into your home, or there's a persistent bad smell in the air, we recommend you give us a call to get our septic pumping experts on the job.
How much does septic pumping cost?
The price of septic pumping services also varies depending on the size of your tank, as well as on other factors. We'd be happy to give you a personalized estimate when you give us a call.