Septic pump-outs will keep your Clermont septic system running smoothly.
Septic Pump-Outs in Clermont – From doing your homework before vacation to getting an annual flu shot, you have seen many times that prevention almost always better and more effective than a cure. Your septic system is no different! Regular maintenance to your septic system enables you to avoid costly repairs all while keeping your septic system in tip-top shape. Just one of the ways that our team here at Sauer Septic can provide you with septic maintenance is with our septic pump-outs.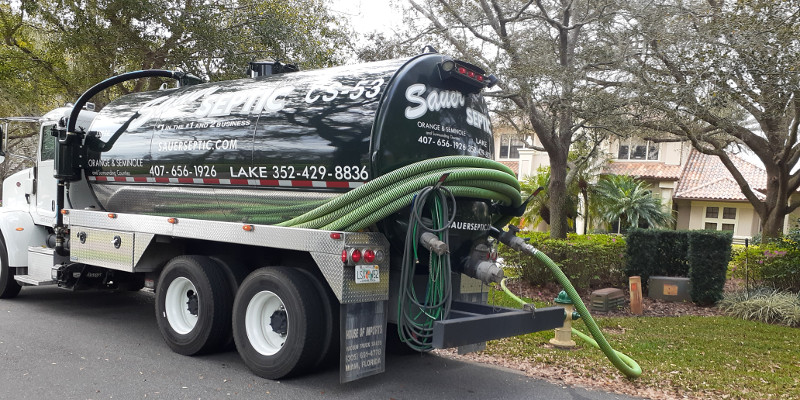 If you've been in Clermont, Florida long, you know that there are several septic tank companies around. You also know that many of them are new or unestablished. When it comes to your septic pump-outs, you should have someone with years of experience to perform your septic pump-outs. These maintenance checks need to be done by experienced septic professionals; otherwise, you run the risk of missing something important that could cost you later on down the line.
Here at Sauer Septic, we have been working with business owners and residents of Clermont for over 30 years now, performing septic pump-outs along with a wide variety of other septic services. Our full-service septic team is here for you any time of the day or night in order to keep your septic system at its best.
We would love the chance to discuss your septic needs with you further. Whether you are a septic system owner in need of regular maintenance checks, a new homeowner looking for a septic system inspection, or a business owner who needs septic system care taken off an extensive to-do list, we want to help. Please contact us today with any questions that you might have. We look forward to talking with you about septic pump-outs and other septic system queries.
---
At Sauer Septic, we provide high-quality septic pump-outs in Orlando, Windermere, Winter Garden, Apopka, Clermont, Casselberry, Altamonte Springs, Eustis, Ocoee, Minneola, Mount Dora, Mascotte, Leesburg, Groveland, Gotha, Sky Lake, and Tavares, Florida.