For great septic pumping services from an experienced company in Apopka, call us at Sauer Septic.
Septic Pumping Services in Apopka – While most of us don't think too much about what happens to the wastewater after it's left our homes, those of us who own septic tanks know that all that water has to go somewhere! We pay attention to our water usage and what we put down our drains. We know where our tanks and drain fields are located on our property. We understand that septic tanks enable us to live places that otherwise might be too far from city limits. In short, septic tank owners know a lot about their systems! Here at Sauer Septic, we love working with the people in Apopka, Florida and helping them take the best care possible of their septic systems.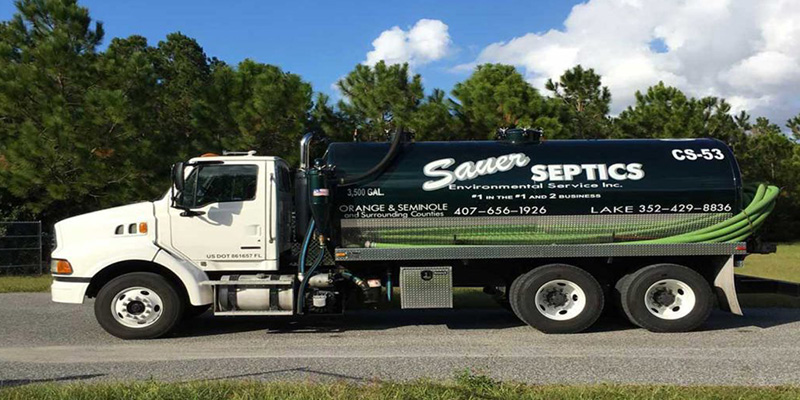 When you call us at Sauer Septic, you'll be pleasantly surprised at our experience in septic pumping services.
Your septic tank is not something that should be handled by a DIY-er, or even someone with amateur experience. Septic tanks can be dangerous and even pollute the groundwater around you when not handled correctly, so experience is a must. Here at Sauer Septic, we have over 30 years of experience working with septic systems and completing septic pumping services, so you can feel confident that when you call us, you're getting great quality of work for a reasonable price.
Our years in the septic business also mean that we have enough equipment of all types and sizes to go around, so you won't be waiting for weeks to get an appointment. In fact, we even offer 24-hour emergency care for your septic systems, should a problem arise outside of business hours. In short, our septic pumping services simply can't be beat!
We would love to assist you with septic pumping services. Please contact us today!
---
At Sauer Septic, we provide high-quality septic pumping services in Orlando, Windermere, Winter Garden, Apopka, Clermont, Casselberry, Altamonte Springs, Eustis, Ocoee, Minneola, Mount Dora, Mascotte, Leesburg, Groveland, Gotha, and Tavares, Florida.