Avoid possible damage and fees with regular septic tank pumping for your Apopka property.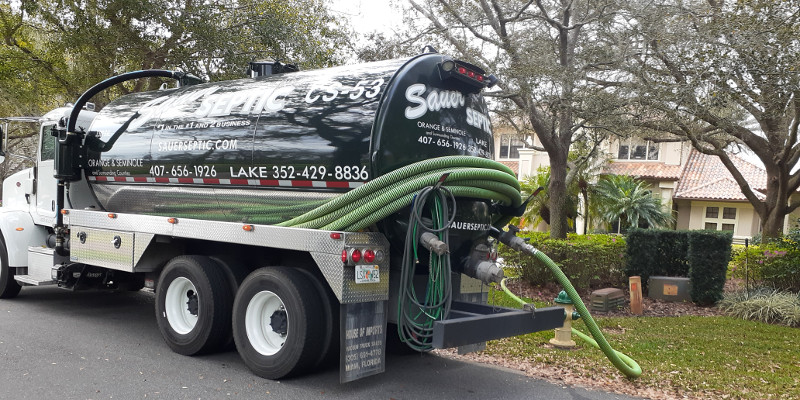 Septic Tank Pumping in Apopka – When it comes to your septic tank, regular maintenance will almost always be better and less costly than problems arising due to neglect! This is especially true when it comes to septic tank pumping. Whether you are new to septic tank ownership or have grown up with septic tanks, our team at Sauer Septic would like to impress upon you the importance of regular septic tank pumping for your Apopka, Florida business or residence.
Regular septic tank pumping can help you avoid all kinds of problems, such as:
Backflow/overflow: When your septic tank is full, there's simply no room for more wastewater. Without a way out of the house via your septic tank, the water will head back to the only place it can– into your home.
Drain field damage: Your drain field is where wastewater is filtered down into the groundwater. Without a properly functioning septic tank, the drain field becomes overwhelmed with contaminated wastewater and can be damaged by the excess.
Pollution: Infrequent septic tank pumping can actually cause you to pollute your surrounding groundwater. When a tank is too full, it can't properly process all of the wastewater, meaning that the water returning to the ground via your drain field has too much waste to be able to percolate out. Not only could you end up with a smelly mess, but you might also end up with fees and fines for contamination, as well.
4 Factors that Can Affect Your Septic Tank Pumping Schedule
Septic systems are more common and effective than you might realize! Especially here in many parts of Florida, there are many homes and even businesses that have septic systems to handle waste disposal. Here at Sauer Septic, one of the most common questions we are asked is how often a tank needs to be pumped. Unfortunately, there is no one right answer, since so many variables go into determining your septic tank pumping schedule. Here are just a few factors that you need to consider:
The size of your tank. The size of your tank is obviously going to affect your pumping schedule. The larger your tank, generally, the less often you will need to pump your tank. A smaller tank will obviously need to be pumped more often to keep up.
The size of your household. More people create more waste, which equates to more frequent septic tank pumping. You should also keep this in mind if your family grows or shrinks during the time in your home, as the schedule will likely change as well.
Your water usage. Do you like to take long showers? Run the dishwasher when it's only partially full? These things affect your water usage, which can overwhelm your tank and cause more frequent septic tank pumping.
Hidden factors. Other factors that you might not consider can also contribute– things like the type of soap you use, whether or not your family uses bleach products, or even how often you use the garbage disposal! All these things can contribute to your septic tank pumping schedule.
Here at Sauer Septic, we want to help you with all your septic tank pumping needs– including determining your scheduling. Give us a call today to learn more and to find a time that works for you.
At Sauer Septic, we have been helping people with septic tank pumping for over 30 years. We have the experience and tools necessary to help get the job done when you need us. If you have any questions about your septic tank pumping needs, we would love to talk with you. Give us a call today!
---
At Sauer Septic, we provide high-quality septic tank pumping services in Orlando, Windermere, Winter Garden, Apopka, Clermont, Casselberry, Altamonte Springs, Eustis, Ocoee, Minneola, Mount Dora, Mascotte, Leesburg, Groveland, and Tavares, Florida.
Similar Services We Offer: