Thanks to the quality of our drain field and septic tank services, we're the right choice for all of your septic needs.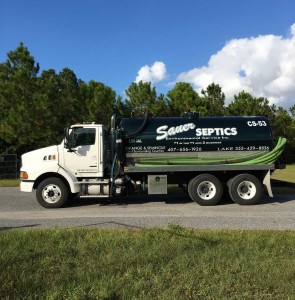 For over 28 years, we have been the Orlando, Florida area's premier septic system contractors, performing septic system pump-outs, septic system installation and repair, and drain field services. If you ever find yourself in need of septic services, our friendly and knowledgeable staff is ready and waiting to help. We will do everything we can to pinpoint the problem correctly and address your septic needs in an efficient and professional manner.
At Sauer Septic, we are a locally owned and operated company. We value our status as a local company because we believe it elevates the level of service we are able to provide to our valued customers. When you turn to us, you can expect nothing less than excellent service and septic professionals who are dedicated to thoroughly addressing your septic needs.
Whether you need septic tank repair or a drain field inspection in Orlando, FL, we'll get the job done right the first time.
Thanks to our experience and dedication to providing quality service, we are able to help with septic jobs ranging from small to big. For example, we do standard septic pump-outs, and we also have the capability to manufacture our own tanks and install them after production is complete. If required, we make sure that all permitting and inspections are properly looked after.
Our operations are built on trust, respect, and teamwork, and we look forward to introducing you to what a difference that can make for your home's septic system. Contact us at Sauer Septic today to find who we are and what we do, or to schedule a time for service.
Sauer Septic Systems in Orlando – Septic Tank Pumping & Installation
"I have been using Sauer Septic in doing pump outs for my personal residence as well as some rental houses, over the past 5 years, and have been VERY pleased with this Company, and I would highly recommend Sauer Septic to anyone who is need of septic service. The pump out tech is very knowledgeable in answering any questions I have ever had. They are not the highest or the cheapest price, but they are fair and reasonable, I have found in the past that cheapest isn't the best."
-Jennifer
"THANK YOU SAUER SEPTIC SYSTEMS FOR SERVICING MY CLIENTS TIME AND TIME AGAIN! YOU REALLY ARE GREAT AT CUSTOMER SERVICE"
-Kelli
Orlando Septic Contractor Services – Call (407) 656-1926 Today!
For over 28 years, Sauer Septic has come to be synonymous with Orlando Septic System Contractor, Orlando Septic System Pump Outs, Orlando Septic System Installation & Repair as well as Orlando's premier septic system servicer.  If you find yourself in need of an Orlando Septic Contractor, do not hesitate to call our friendly and knowledgable staff today.  We will do our best to discover the problem over the phone and then send out one of our Orlando Septic System engineers if necessary to ensure that your septic needs are addressed.
Septic tanks are a vital part of a healthy, properly functioning Orlando septic system.  Ensuring that your tank is in good condition, that the level of waste in the tank is at an acceptable level and that the leeching field attached to the tank is working properly are all very important if you wish for your Orlando septic system to last as long as possible.  Our septic system technicians will come out and diagnose your Orlando septic tank and help ensure that it is functioning for years to come.  Whether it be a clogged outflow pipe, cracked septic tank or broken drainage field, Sauer Septic is here to help solve the issues plaguing your Orlando septic system.  We can also install and service new and existing Orlando septic tank systems.  CALL TODAY for more information!
Ensuring that your septic tank levels are acceptable is essential to preserving the functionality of your home septic system and leeching field.  If your Orlando septic tank becomes too full, you can experience a myriad of problems including pooling in the back yard where your leeching field is, foul odors outdoors as well as in your bathrooms, sewage backup from your septic tank flooding the toilets and/or bath tubs, slow drains or nitrate concentration. We specialize in Septic Tank Pumping.  If you are experiencing any of these types of malfunctions, it is essential that you call Orlando's premier septic contractor and septic tank pumping service today – Sauer Septic. Call Now!
If you are noticing 'pooling' in your back yard, it could be something to do with your Orlando septic drain field.  The problems that create pooling can be any number of various issues and it is important to diagnose the problem properly in order to find a viable solution.  Pooling, foul odors, backup in your sink, toilets and bath tubs can all be signs that you have a significant issue with your Orlando septic drain fields.  The reasons for these issues could be anything from a clogged drainage pipe, to your septic tank being too full and thus requiring an Orlando septic tank pump out.  The expert engineers at Sauer Septic will assess the issues and ensure that we find the root cause of the problem the first time and solve the issue immediately.  We understand how inconvenient it can be if your Orlando septic system is not functioning properly, so CALL US today for more information!
Areas Of Service
For your convenience, Sauer Septic offers our services in various areas in and around the Orlando Metropolitan Area.  The areas we serve include, but are not limited to:
Orlando Septic Services
Clermont Septic Services
Apopka Septic Services
Windermere Septic Services
Winter Garden Septic Services
If you don't see the area of town that you live in, it doesn't mean that we aren't able to service your septic system needs.  Please give us a call at (407) 656-1926  and speak with one of our customer service representatives to determine if we are able to travel to your location to help you with your septic system needs!  Thanks for visiting Sauer Septic!