Protect your home from sewage backup and contamination with drain field services.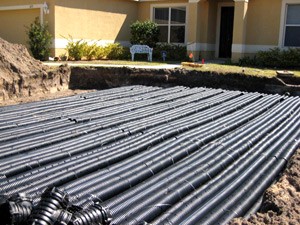 Your septic system consists of two main parts: the septic tank and the drain field. The drain field is a system of pipes that contain gravel to absorb and filter the water that flows from the septic tank to rid it of waste and impurities that could make you sick. Your drain field is necessary for keeping the septic tank from overflowing, preventing unpleasant odors on the property, and preventing the contamination of your soil and ground water. That's why it's important to schedule drain field services as soon as you notice something wrong on your Winter Garden, Florida property.
Some signs that can point to the need for drain field services include flooding or standing water around the drain field or foul odors coming from the surrounding area. If you notice either of these or anything else that seems a bit off in your septic system, it's important to call a septic company like ours right away before your home and property are filled with contaminants and harmful bacteria.
At Sauer Septic, we have been in business since 1980 and can offer our exceptional drain field services, experience, and expertise that you will find makes us one of the best in the business. Our services include accurate drain field installation that we can ensure will facilitate proper flow through the septic system, drain field inspections to check for issues or abnormalities in the system, and drain field repairs to get your system back to normal.
You can trust us to perform any job efficiently and accurately. Make the decision to protect your home from contamination when you call us today to schedule our drain field services.
---
At Sauer Septic, we provide high-quality drain field services in Orlando, Windermere, Winter Garden, Apopka, Clermont, Casselberry, Altamonte Springs, Eustis, Ocoee, Minneola, Mount Dora, Mascotte, Leesburg, Groveland, Gotha, Isleworth, Heatherbrooke, Sky Lake, and Tavares, Florida.
Similar Services We Offer: