We offer a variety of drain field services to customers in the Windermere area.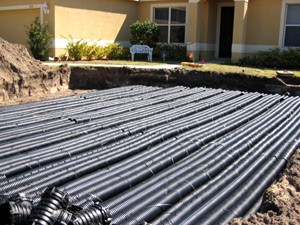 Drain Field Services in Windermere – The drain field is one of the most important and expensive components of your septic system. When you rinse water down the drain or flush a toilet in your home or business, the water and waste move through the pipes and into the septic tank. This large concrete tank, buried beneath the ground, serves as a self-contained waste processing facility, separating the waste and keeping the heavier solids behind. Effluent liquid rises to the top, where it is treated and allowed to move through the pipes on the opposite side of the tank.
As the liquid moves out of the tank, it then goes into the drain field, which is a set of perforated pipes buried in gravel. The perforations in the pipes allow the water to slowly seep out, while the gravel serves as an additional filter to prevent anything dangerous from getting back into the soil. If any part of the drain field is damaged or not functioning properly, you run the risk of damaging the environment and contaminating the water that you and your neighbors use.
At Sauer Septic, we offer a variety of drain field services to customers in the Windermere, Florida area. A few of the drain field services that our technicians provide include drain field inspections, repairs, and installation. It is important to schedule routine inspections so you can prevent damage to the ground that surrounds your drain field. Give us a call today to schedule drain field services at your home or business.
---
At Sauer Septic, we provide high-quality drain field services in Orlando, Windermere, Winter Garden, Apopka, Clermont, Casselberry, Altamonte Springs, Eustis, Ocoee, Minneola, Mount Dora, Mascotte, Leesburg, Groveland, Gotha, Sky Lake, and Tavares, Florida.
Similar Services We Offer: