A properly operating drain field is more important than you might think.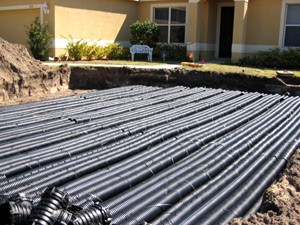 Most people have a decent understanding about what is involved with a septic tank and how to keep it operating as it should. However, if you are working with a company that only does septic tank services, your Tavares, Florida property could be headed for trouble. Drain field services are also important, as a damaged or malfunctioning drain field can cause even more trouble for you than a problem septic tank. Here at Sauer Septic, we excel at both septic tank and drain field services, so you can be confident your entire septic system is operating as it should.
Most septic tank companies do very little in terms of inspecting or repairing drain fields. With experience dating back to 1980, we have done it all. We understand that if a drain field is clogged or otherwise damaged, it can be detrimental to the soils around it, as well as the water table. If you depend on a well for water or want to avoid causing harm to the environment, it is imperative that you keep the drain field operating properly. On a more immediate note, a problem with the drain field could result in a backup, which isn't a pleasant experience, to say the least.
Our drain field services include inspections, repairs, installation, and replacement. All our services are priced to be fair and competitive, and we'll be happy to provide you with a free estimate before beginning any work. No job is too large or too small, and we're experienced with both residential and commercial drain field services. Call today to learn more.
---
At Sauer Septic, we provide high-quality drain field services in Orlando, Windermere, Winter Garden, Apopka, Clermont, Casselberry, Altamonte Springs, Eustis, Ocoee, Minneola, Mount Dora, Mascotte, Leesburg, Groveland, Gotha, Isleworth, Heatherbrooke, Sky Lake, and Tavares, Florida.
Similar Services We Offer: